2016 Graduate Education
THIS GUIDE IS NO LONGER ACTIVE. For the current FP Guide, click here.
Terrorism. Climate change. Refugee crises. Collapsing economies. Health epidemics. Today's pressing global challenges are not isolated problems. They are interconnected in more ways than you might think.
"Understanding the connections is critical," says Carmen Iezzi Mezzera, executive director of the Association of Professional Schools of International Affairs (APSIA). "As global problems become more apparent, so does the need for people to understand them and to see the connections." Master's degree programs in international affairs prepare students for careers that demand not only expertise, but also flexibility, the ability to understand diverse perspectives, and the ability to perceive the links among different issues. In addition to having proficiency in areas such as economics, statistics, or languages, international affairs graduates are equipped to analyze a problem, write and speak effectively among groups from diverse cultures, and identify crucial connections.
International affairs graduates pursue a wide range of career paths, from global finance to international conflict resolution and more. Increasing numbers of young professionals are entering the field of economic development, working in roles such as development monitoring and evaluation. Another expanding field is political risk, where graduates work for banks, travel companies, investment firms, and other businesses. Companies looking to evaluate risk in potential new areas of business often seek international finance expertise and strong regional familiarity.
More than 40 percent of 2015 graduates of APSIA-member schools are working in the private sector. Nearly 30 percent are employed in the public sector, and another 27 percent work for nongovernmental or multilateral organizations.
Photo top of page – NYU School of Professional Studies, MS in Global Affairs program: Students conducting field research for a socioeconomic study of artisan women in the Triqui region of Oaxaca, Mexico
Checking Out Schools
When exploring prospective programs, Mezzera says it's important to consider the following:
Academic structure.
Is the curriculum flexible or structured? Check out a school's language, quantitative, and other course requirements, as well as the strict prerequisites for admission. Some schools emphasize individual initiative and outside-the-box thinking.
Admission qualifications.
Find out a school's range of expectations in terms of applicants' GPAs and test scores. If you don't have all the prerequisite courses and skills, what would you need to do to catch up?
Community and location.
Would you like to study in the United States, Europe, Asia, or elsewhere? How much do you care about spending time in an international affairs hub such as New York or Washington? Visiting a school in person can give you a feel for its campus community.
Costs.
Do you plan to study full time or part time? How much can you afford to pay? Try to identify schools that could be within your range, with or without financial aid.
Career goals.
Look for programs that would set you up for short-term and long-term success. To help determine your career goals, read the job descriptions for positions that interest you, even if you're not yet qualified for a particular job.
It's never too early to start asking yourself basic questions: Why do you want to go to grad school? Why do you want to go now? What do you want to study? Why do you find it exciting? How have your work and volunteer experiences, coursework, life experiences, special projects, and travel experiences helped to prepare you? When you find a school that interests you, ask yourself why this school or program would meet your needs. What will you want to do with the degree?
"Think about your story. Knowing who you are now, what past experiences have shaped you, and where you want to go in the future is vital for finding programs that meet your needs. It also enables you to create a strong, distinctive application," says Mezzera.
---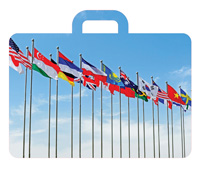 International Affairs Employment Sectors
42% Private Sector (including government contractors)
29% Public Sector (U.S. and other countries)
22% Nongovernmental Organizations
5% Multilateral Organizations
1% Entrepreneur or Other
Source: 2015 survey of 2013–2014 graduates of two-year master's degree programs from APSIA member schools
---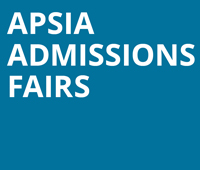 APSIA Admissions Fairs
On July 21 and November 16, the Association of Professional Schools of International Affairs (APSIA) will offer virtual admissions fairs, where you can connect online with admissions staff from APSIA member schools around the world.
Starting in September and throughout the fall, APSIA will offer in-person admissions fairs in New York, Washington, D.C., Toronto, Chicago, Berlin, Paris, and Stockholm.
In addition, APSIA hosts monthly one-hour webinars focusing on "Best Practices for Applying to Graduate School." Participation is free. Upcoming webinars will be held on July 7 and August 16.
For more information about any of these events, go to www.apsia.org/admissions-fairs.
---
Contents
Contents