2016 Leaders in Higher Education
THIS GUIDE IS NO LONGER ACTIVE. For the current FP Guide, click here.
National University of Singapore,
Lee Kuan Yew School of Public Policy
(LKY School)
Cultivating Leaders in Asia
"In the 21st century, Asian countries will go from being passengers on the bus of globalization to becoming co-drivers. But in what direction will Asia lead the world?" asks Kishore Mahbubani, dean of the National University of Singapore's Lee Kuan Yew School of Public Policy (LKY School).
"Our vision is to produce thousands of well-educated leaders who will transform their societies to create a better world for humanity," says Mahbubani. "We have the most globalized classroom of any school of public policy in Asia." Only 20 percent of LKY School students are from Singapore. The remaining 80 percent are from other Southeast Asian countries as well as China, India, the United States, Europe, and other parts of the world.
The LKY School provides thought leadership from an Asian perspective. Members of its distinguished, internationally diverse faculty conduct intensive research on key global challenges, from water resource issues to the competitiveness of Asian nations.
The LKY School's six graduate degrees include a new Master in International Affairs (MIA) program, whose graduates will help lead their home countries in navigating the changing geopolitical-economic landscape. The school also exposes students to cultures and public policy practices all over the world through study trips, community engagement programs, and the opportunity to work with ministries and NGOs in different countries to evaluate programs and recommend policies.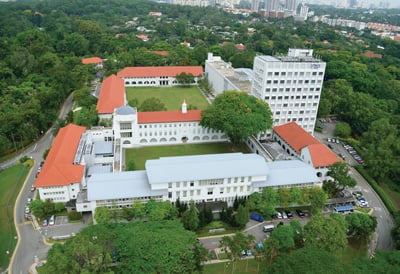 World leaders who have spoken at the LKY School include Lee Kuan Yew, Henry Kissinger, Kofi Annan, Aung San Suu Kyi, and others. "When Tony Blair spoke at our school, I told our students that while they could learn from the substance of his comments, they could learn just as much from his skill at answering difficult and challenging questions," says Mahbubani. "We also benefit from the affiliation of former senior officials of the Singapore Government, some of whom teach at the school and share their enormous experience."
In his long career in the Singapore Foreign Service, Mahbubani has had the opportunity to work firsthand with three of the key founding fathers of Singapore: Lee Kuan Yew, Goh Keng Swee, and S. Rajaratnam.
"All three were big thinkers, but they were also brutally realistic," says Mahbubani. "Their ability to generate big ideas while maintaining a pragmatic approach in designing and implementing public policies rubbed off on me. From them, I learned that a good leader must have not only a big vision, but also the skill to implement this vision. These are the qualities we try to instill in LKY School students."
The multidisciplinary curriculum of the LKY School provides students with a strong grounding in economics, politics, public management, and more. "We provide the intellectual foundations for future leaders, and we employ educational innovations, such as co-teaching by professors from different disciplines, to help produce thoughtful, creative leaders," says Mahbubani.
Master's Degrees offered: See Program Directory
---
VIEW THIS SPECIAL REPORT
The 21st century is known as the Asian century,
marked by the area's growing role as engine of the
global economy. For global policy experts and future
professionals, Asia is already where the action is.
---