2017 Graduate Education | International Affairs
THIS GUIDE IS NO LONGER ACTIVE. For the current FP Guide, click here.
Syracuse University, Maxwell School of Citizenship and Public Affairs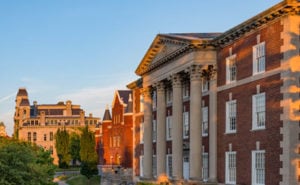 "Public policy problems, both international and domestic, are sufficiently complex that no single discipline has a monopoly on how to address them," says David M. Van Slyke, dean of the Maxwell School of Citizenship and Public Affairs. As Syracuse University's home for innovative, interdisciplinary teaching and research in the social sciences, public administration, and international relations, the Maxwell School is distinctive for the depth and breadth of its disciplinary offerings and its opportunities for interdisciplinary exploration.
"You can't look at an issue like immigration, for example, and not have an appreciation for what economics or geography contributes. But consider also the role of anthropology. How can you develop meaningful policies and strategies for assimilating a large group of immigrants without understanding their cultural histories, rituals, and norms?" says Van Slyke. "No other school, in the U.S. or abroad, is able to harness the disciplinary excellence across the social sciences with the interdisciplinary quality of Maxwell's research centers and professional degree programs."
Students in Maxwell's Master of Arts in International Relations (MAIR) program benefit from co-location not only with entire departments of economics, sociology, anthropology, geography, history, and political science, but also with the school's nine research centers and seven regional centers. Each enriches the student experience by engaging students in research, speaking events, and other co-curricular offerings. MAIR students also benefit from leadership and management courses drawn from the school's Master of Public Administration (MPA) program, ranked #1 in the country.
Maxwell students may complete the MAIR degree in just 16 months, including a global internship tailored to their career track—or even two internships. The degree may be combined with studies in law, economics, public administration, or public diplomacy, which is offered jointly with the S.I. Newhouse School of Public Communications.
Maxwell students have impressive internship opportunities with, for example, UN organizations in Geneva, legal organizations in London, private sector employers in Shanghai, NGOs in Brussels, and more. In addition, students may pursue internship opportunities in Washington, D.C., and study at Maxwell's D.C. campus, located at the renowned Center for Strategic and International Studies.
Through the Maxwell School's interdisciplinary research centers, faculty and students address some of the world's most vexing issues in national security, conflict resolution, immigration and migration, environment, health and aging, and more. And through the Moynihan Institute of Global Affairs, Maxwell students gain regional expertise in language, culture, religion, and politics via the institute's affiliated centers focused on East Asia, South Asia, the Middle East, Africa, Europe, and Latin America and the Caribbean.
Students in Maxwell's efficiently paced MAIR program can complete their degree and be well prepared to launch their career in less time than at many peer schools. Best of all, they become part of the dynamic Maxwell community working across the public, private, and nonprofit sectors. Maxwell alumni hold leading positions in organizations around the world and form a network of professionals united by their commitment to service and to the greater good.
Master's Degrees offered: See Program Directory
Receive School Information: See Request Info