Leaders in Higher Education
THIS GUIDE IS NO LONGER ACTIVE. For the current FP Guide, click here.
MERIT E. JANOW, Dean

Columbia University, School of International and Public Affairs (SIPA)
A school that prepares and supports the next generation of world leaders needs not only a broad-ranging curriculum, but also a seasoned leader with broad experience. Merit E. Janow, dean of Columbia University's School of International and Public Affairs (SIPA), has served in a variety of roles in the private and public sectors—representing the U.S. in trade negotiations with Japan and China, working on cross-border enforcement and policy issues at the U.S. Department of Justice, and adjudicating international trade disputes as one of seven members of the World Trade Organization Appellate Body.
"I am convinced that the solutions to policy challenges today and into the future will require international and interdisciplinary perspectives, as well as collaboration between the public and private sectors," says Janow. "We are a global policy school that enrolls more than half of our students from outside the United States. We believe a global perspective is essential to training both U.S. and international students to be effective leaders and problem solvers."
SIPA places a strong emphasis on rigorous academic analysis and learning in combination with practical skills and applied knowledge. The curriculum culminates in required workshops in which small teams of students address a wide spectrum of issues for clients that range from multilateral financial institutions to city governments and NGOs around the world. As part of these capstone projects, students study and research various issues—including needs assessment for opioid treatment in New York City; use of natural resources in Namibia; efforts by Syrian refugees to enter the workforce in Jordan; air quality in Medellín, Colombia; and many others.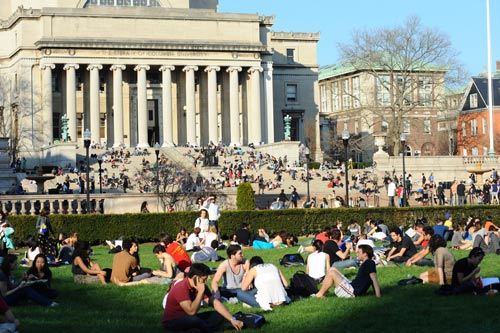 SIPA faculty members are recognized internationally for their research on current global issues such as the impacts of climate change, cybersecurity threats, the geopolitics of energy markets, and the stability of the global financial system. Students benefit from the school's unique blend of scholars and practitioners, who include former government officials such as former U.S. Treasury Secretary Jacob Lew, and Michael Nutter, two-term mayor of Philadelphia. Faculty engagement sometimes means a return to public service—as in the case of José Antonio Ocampo, an economist at SIPA who recently took leave to join the board of Colombia's central bank.
Columbia SIPA's dynamic hometown of New York City provides unparalleled access to thought leaders and to employment opportunities in the private, public, and NGO sectors. As interns and full-time employees, the school's students and alumni work for major consulting firms, the city of New York, the Federal Reserve, the United Nations, and many other top-tier organizations.
One of Janow's major initiatives as dean has been to extend the school's focus on the ways in which technology is reshaping the political, social, and economic public-policy landscape. A recent report by senior research scholar Jason Healey examined "Defensible Cyberspace," and the school continues to develop courses that explore advancements in cybersecurity and internet governance.
In its continued support of entrepreneurial approaches to public policy, SIPA is sponsoring a challenge grant program that asks student teams to pursue ICT-based solutions to urban problems; the most promising ideas receive incubator funding. One notable start-up by recent graduates seeks to help Middle Eastern refugees start businesses in their home region, while another is working to bring affordable solar power to rural Africa.
In recent years Columbia SIPA has also added or expanded programs in central banking, gender and public policy, humanitarian policy, and UN studies.
Graduate Degree Program Options:
• Master of International Affairs (MIA)**
• Master of Public Administration (MPA)**
• MPA in Development Practice (MPA-DP)**
• MPA in Environmental Science and Policy*
• MPA in Economic Policy Management*
• Executive Master of Public Administration (part-time program)
• PhD in Sustainable Development
* One-year program
** Two-year program
Visit the Request Info page to receive information from the schools.