Leaders in Higher Education
THIS GUIDE IS NO LONGER ACTIVE. For the current FP Guide, click here.
Frederic Lemieux, Faculty Director, Master's in Applied Intelligence Program

Georgetown University School of Continuing Studies
Georgetown University's School of Continuing Studies (SCS) complements the university's traditional offerings with an applied approach that offers hands-on programs in emerging fields of study.
"Our students are enrolled in courses that are competency- and skill-centered," says Frederic Lemieux, faculty director and professor of the practice of the SCS Master of Professional Studies (MPS) in Applied Intelligence program, a degree introduced in August 2017.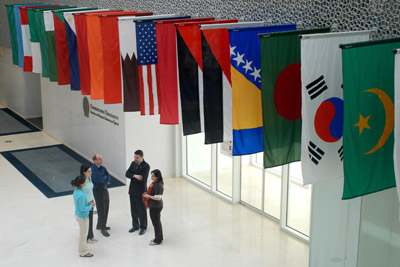 The MPS in Applied Intelligence attracts students from military intelligence groups, intelligence agencies, and business intelligence units and prepares them to navigate the complex, data-driven, global intelligence landscape by mastering analytical and technical skills. The program also attracts veterans returning to civilian life, as well as recent college graduates in fields such as political science and criminal justice who are seeking a master's degree that will enhance their job qualifications. Students can choose to study online or at the SCS campus in downtown Washington, D.C.
"By learning how to plan data collection and intelligence analysis, our students are able to ask the right questions and apply the right intelligence principles," says Lemieux, an innovative researcher who has initiated and managed cutting-edge programs in intelligence, law enforcement, homeland security, and cybersecurity.
The MPS in Applied Intelligence offers three concentrations, each with a strong global dimension:
In the Homeland Security Intelligence concentration, students learn how to produce intelligence estimates and assess risk associated with homeland security issues. The program explores the role of technologies in collecting, analyzing, and sharing intelligence, and looks at how different governments define and look at risk and harm. It also focuses on unconventional threats and counterterrorism, including the challenge of targeting individuals of interest to the U.S. who are outside the country.
The Law Enforcement Intelligence concentration examines how to develop and apply intelligence operations frameworks for understanding organized crime and terrorism activities. Students also gain a deeper understanding of current issues in policing, the use of technology in preventing crime, and the legal framework of law enforcement intelligence. "Neutralizing threats from outside the U.S. requires different legal and operational frameworks than within the U.S.," notes Lemieux.
The Competitive Business Intelligence concentration focuses on leveraging business intelligence to provide practical insights that support companies' decision-making processes and help them increase competitiveness.
In his own research, Lemieux has a particular interest in cyber intelligence and new trends in cybersecurity. He observes, "Many disciplines come into play in cybersecurity, including computer science, policymaking, management, criminology, and legal knowledge."
Other Georgetown SCS programs that involve global affairs focus on emergency and disaster management. Issues such as climate change, extreme weather, and rising sea levels are likely to exacerbate resource scarcities and threaten U.S. infrastructure, while increased access to technology and rapidly growing economies in the developing world pose potential threats from terrorist organizations. The field of emergency management needs practitioners equipped to tackle these and other 21st-century challenges. The MPS in Emergency & Disaster Management is available online or on campus. SCS also offers the Executive MPS in Emergency & Disaster Management, a one-year program offered online with five residencies: one each in Seattle, Paris, and New Zealand, and two in Washington, D.C.
Graduate Degree Program Options:
• MPS in Applied Intelligence
• MPS in Emergency & Disaster Management
• Executive MPS in Emergency & Disaster Management
• Other master's degree and certificate programs
Visit the Request Info page to receive information from the schools.