2018 Graduate Education | International Affairs
THIS GUIDE IS NO LONGER ACTIVE. For the current FP Guide, click here.
Georgetown University,
Walsh School of Foreign Service
"We are now in a phase of global problems so complex and intractable, so wicked in the true sense of the word because of the great suffering they have caused, that we have to think differently about the school's mission."
This is the blunt assessment of Joel S. Hellman, dean of Georgetown University's Walsh School of Foreign Service (SFS), of what all schools of international relations need to do to help their students meet the daunting challenges of the 21st century.
Hellman raises this issue as SFS, the nation's oldest international relations school, prepares to celebrate its 100th anniversary next year.
"The problems we face in the world have changed," he says. "To be a school of international relations in a new century means looking at global factors, the private sector, new technologies, ways to reduce poverty, and how to teach problem-solving in a multidisciplinary fashion." It even requires a different type of classroom—one with flexible space for lab work and teamwork, and technology-enabled for communication with students around the world.
"We've got to be thinking about what's next for us," Hellman says. "That means looking at the world differently, using tools and skills in different ways, and pushing students to identify interconnections among disciplines."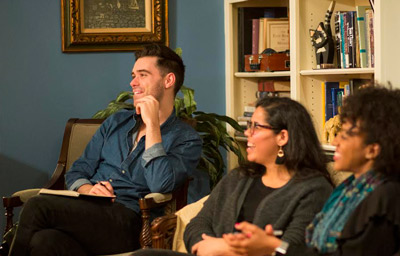 In this vein, he sees a need for students to stretch beyond their comfort zone. "During their time here and during semester breaks, we want our students to apply their learning by engaging with the world beyond our classrooms, going to the difficult places—to the borders and boundaries, to work with the marginalized, and to help humanize world affairs." At SFS, Hellman explains, extraordinary opportunities beyond classroom learning are commonplace.
In the past year, for example, two graduate students in Asian Studies participated in the inaugural U.S.-China Social and Cultural Dialogue—one of four dialogues launched by President Trump and Chinese President Xi Jinping to increase people-to-people ties and mutual understanding between the two nations.
Also within the past year, graduate students in the class "Stability Challenges in South and Southeast Asia" received a visit from retired Air Force General Michael Hayden, former Director of the Central Intelligence Agency, for a classroom discussion.
During the summer between their first and second years, SFS graduate students are found across the globe working in global business, development, and diplomacy, or conducting research and attending language intensives.
"The critical element that distinguishes SFS is our faculty," Hellman says. "In addition to offering eight leading graduate programs, we are a top undergraduate school of international affairs. We have the largest core faculty of any comparable school, with an unmatched range and depth of expertise and dedication to teaching students." Thanks to the school's Washington, D.C., location, the SFS faculty also includes adjunct professors with direct experience in diplomacy, trade, development, security, and more. "They are engaging with the most important issues in global affairs in the morning and discussing them with students in the afternoon," says Hellman.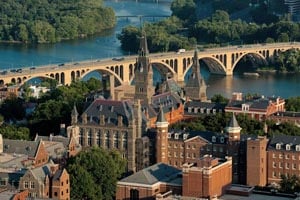 SFS students also benefit from the school's deep alumni network, with connections across the political, geographic, and career spectrum.
Furthermore, the dean sees some encouraging signs in the recent announcement that the U.S. State Department has lifted its hiring freeze. "It's great to see that attention is being paid to rebuilding morale and strengthening the U.S. Foreign Service. It's a good sign."
Graduate Degree Programs in International Affairs:
• MS in Foreign Service
• MA in Security Studies
• Master of Global Human Development
• MA in Arab Studies
• MA in Asian Studies
• MA in Eurasian, Russian and East European Studies
• MA in German and European Studies
• MA in Latin American Studies
• MA in International Business and Policy
Visit the Request Info page to receive more information.