2018 Graduate Education | International Affairs
THIS GUIDE IS NO LONGER ACTIVE. For the current FP Guide, click here.
Johns Hopkins University School of Advanced International Studies (SAIS)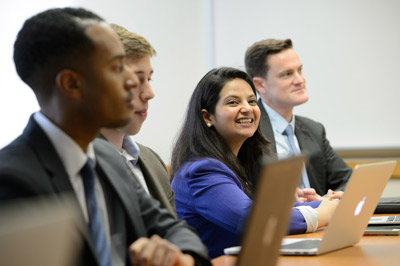 From the need to develop sustainable power sources in post-hurricane Puerto Rico to the economic threat of invasive species in North America, students at Johns Hopkins University's School of Advanced International Studies (SAIS) have a platform to help solve pressing global problems through practicums with professional clients.
"Johns Hopkins SAIS is unique because of the opportunities for students to delve deeply into experiential learning," says Sidney Jackson, the school's assistant dean for global enrollment and recruitment.
Students experience hands-on learning through study trips, internships, and a range of practicums in which they help a client solve real-
world problems.
For example, Swiss Re, a leading global reinsurance company, turned to Johns Hopkins SAIS's Energy, Resources, and Environment (ERE) program for help from a practicum team in pinning down the costs to ecosystems and commercial enterprises posed by invasive species in areas such as the Great Lakes.
Another ERE practicum team traveled to Puerto Rico to work with the island's Center for a New Economy on prospects for a more sustainable energy future.
Student practicum teams in the International Development program designed and modeled social impact bonds for Athena Infonomics to support public-private partnerships for schools in Uttar Pradesh, India, and evaluated the effectiveness of youth entrepreneur financing programs in the Philippines for the World Bank's International Finance Corporation.
With campus locations in Washington, D.C., Bologna, Italy, and Nanjing, China, Johns Hopkins SAIS students also gain exposure to a range of world leaders and global decision-makers. In January 2018, Secretary of Defense James Mattis visited the school's main campus in Washington, D.C., to release the new U.S. National Defense Strategy. The school also recently hosted UN Under-Secretary-General and Executive Director of UN Women Phumzile Mlambo-Ngcuka to discuss the leading barriers to economic empowerment of women around the world.
"It's those types of people that our students are being exposed to on a daily basis," Jackson says. "It makes for a very rich learning environment."
The possibilities for students to gain experience in other countries extend beyond the school's campus locations. "There's just a lot of flexibility," Jackson says. Johns Hopkins SAIS also boasts a global alumni network of 20,000 accomplished professionals that students can tap for help with internships and jobs.
"The alumni cut across so many different sectors —energy, finance, international development," Jackson says. "They have a really good record of being influential."
As demand shifts, Johns Hopkins SAIS is developing studies in fields such as energy sustainability, and strategic studies and statecraft. The school recently welcomed Thomas Rid, a cybersecurity expert and author of Rise of the Machines, as a professor of strategic studies. Its Henry A. Kissinger Center for Global Affairs is building a "grand strategy" initiative, with a focus on applied history via foundational texts as a way of understanding current conditions and how to overcome present and future challenges.
Graduate Degree Programs in International Affairs:
• Master of Arts (MA)
• MA in International Affairs
• MA in International Studies
• MA in Global Risk
• MA in International Economics and Finance
• MA in Global Policy
• Master of International Public Policy
• Dual and cooperative degree programs
• Doctor of Philosophy (PhD)
Visit the Request Info page to receive more information.