2019 Graduate Education | International Affairs
THIS GUIDE IS NO LONGER ACTIVE. For the current FP Guide, click here.
Johns Hopkins University School of Advanced International Studies (SAIS)
From accelerating investments in climate-resilient infrastructure to scaling up HIV/AIDS treatment by public health ministries, students at the Johns Hopkins University School of Advanced International Studies (SAIS) have a platform to help solve pressing global problems through practicums with professional clients.
"Johns Hopkins SAIS is unique because of the opportunities for students to delve deeply into hands-on learning," says Sidney Jackson, the school's assistant dean for global enrollment and recruitment.
Through study trips, internships, and a range of practicums in which they help a client solve real-world problems, students gain important experience in the field of international affairs.
For example, multinational consulting firm AECOM turned to a student practicum team with the school's Energy, Resources, and Environment program to examine the barriers to unlocking trillions of dollars in needed local government investments to prepare for rising sea levels. The team recommended new public-private partnerships to mobilize capital at the scale needed to mitigate climate change.
Students in the school's International Development program traveled to Pakistan to research the country's power-generation sector and its prospects for a more sustainable energy future. The group toured a new power plant and met with the nation's energy regulators for insider perspectives.
Another student practicum team in the International Development program at Johns Hopkins SAIS visited the Lesser Antilles islands in the Caribbean to analyze the World Health Organization's "Treat All" medical policy in the region. The team created a standardized tool for Caribbean health ministries to estimate costs and impacts of scaling up HIV treatment to support budget sustainability.
With campus locations in Washington, D.C., Bologna, Italy, and Nanjing, China, Johns Hopkins SAIS students also gain exposure to a range of world leaders and global decision-makers. The school recently hosted philanthropist and tech industry giant Bill Gates, who discussed U.S. foreign aid and global development goals; World Bank Group General Counsel Sandie Okoro, who discussed the challenges faced by women seeking access to legal systems; lead political anchor at CNN and Johns Hopkins SAIS alumnus Wolf Blitzer, who talked about the changing role of the U.S. in global affairs; and U.S. Air Force Secretary Heather Wilson, who discussed her experience serving in a leadership role in a predominantly male field.
"It's this caliber of leader that our students are being exposed to on a daily basis," Jackson says. "It makes for a very rich learning environment."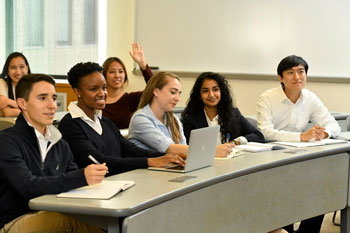 The possibilities for students to gain experience in other countries extend beyond the school's three campus locations. "There's just a lot of flexibility," Jackson says. Johns Hopkins SAIS boasts an alumni network of 20,000 accomplished professionals across the globe that students can tap for information or for help with internships and jobs.
"The alumni cut across so many different sectors—energy, finance, international development," Jackson says. "They stay connected and are deeply engaged in advancing the careers of graduates."
As demand shifts, Johns Hopkins SAIS is developing studies in fields such as political risk, strategic studies, and international economics. The school recently welcomed Thomas Rid, a cybersecurity expert and author of Rise of the Machines, as a professor of strategic studies. This year, the school appointed a leading expert on Latin American trade and economic nationalism, Monica de Bolle, to head its programs in Latin American Studies and Emerging Markets.
Visit the Request Info page to receive more information.