2020 Launching a Career in International Affairs
THIS GUIDE IS NO LONGER ACTIVE. For the current FP Guide, click here.
Arizona State University, School of Politics and Global Studies and McCain Institute
New Master's Program to Focus on Character-Driven Leadership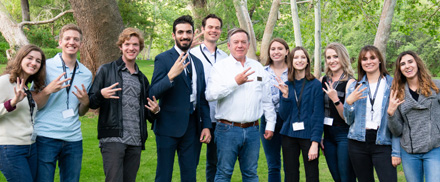 Access to a prominent brain trust of senior foreign policy and national security professionals will be the linchpin of a new master's degree program in the center of Washington, DC, to be launched in the fall of 2020 by Arizona State University's (ASU) School of Politics and Global Studies, in partnership with the McCain Institute.
The Master of Arts in International Affairs and Leadership aims to prepare students for an international affairs career as character-driven leaders, in the model of the late Senate Armed Services Committee Chairman John McCain. Like the eight-year-old McCain Institute, the degree will focus on five key areas that were a hallmark of McCain's career in the US Navy and in politics: leadership, national security, human rights, foreign policy, and global economics.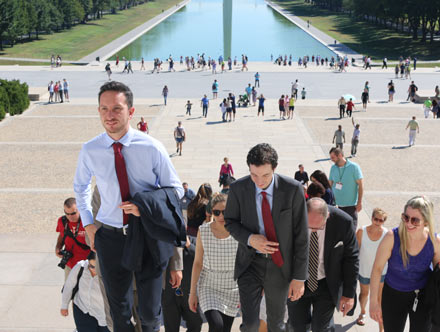 "It's a master's degree that puts you in line for working in either the US government or a nongovernmental organization, because it's about serving a cause greater than yourself," says Program Director and retired Ambassador Edward O'Donnell. As part of the program, he will lead an advanced version of a course that he has taught for five years to ASU undergraduates spending a semester in Washington, DC.
O'Donnell's course, "Diplomacy in Action: The Embassy Country Team," will explore the details of working in a US embassy. It will be one of the classes offered for the 21 elective credit hours of the degree. The three core courses will be: "Principles of Character-Driven Leadership," "The Making of US National Security Policy," and "Applied International Leadership: Case Studies." An internship and a capstone project will round out the requirements.
The two core leadership courses will be taught by Army Lt. Gen. (Ret.) Benjamin Freakley, who led the 10th Mountain Division in Afghanistan and serves as a professor of practice, teaching leadership, for ASU.
"He will challenge the students to be successful in areas where maybe they are new and outside their comfort level," O'Donnell explains.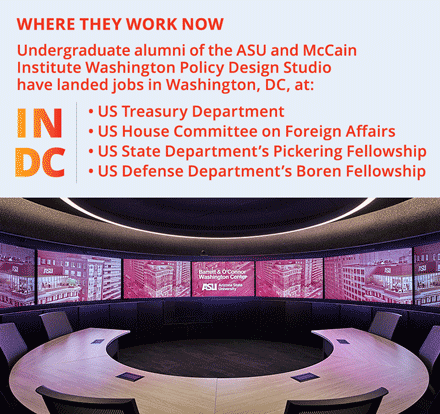 One of the electives, "The Modern Global Economy," will be taught by former Under Secretary of State for Economic Growth, Energy, and the Environment Catherine Novelli. The capstone projects will be led by retired Ambassador Michael Polt, who led embassies in Estonia and what was then Serbia and Montenegro. A capstone project could cover, for example, the fight against human trafficking, an area of focus for the McCain Institute via Board Chairman Cindy McCain and under the purview of Senior Director Kristen Leanderson Abrams, a longtime expert in the field.
The program is recruiting an initial cohort of 20 master's degree candidates to begin classes in August 2020.
Career Services
https://career.asu.edu
Contact
McCain Institute/ASU Admissions: www.mccaininstitute.org/maprogram or
http://spgs.asu.edu/international-affairs-leadership-ma
202-601-4296