2020 Launching a Career in International Affairs
THIS GUIDE IS NO LONGER ACTIVE. For the current FP Guide, click here.
Johns Hopkins University School of Advanced International Studies
Energy, Sustainability Studies Fuel Job Opportunities for Grads

Graduates of Johns Hopkins University School of Advanced International Studies have been branching out into employment sectors beyond their traditional targets. In addition to filling positions in government and at foreign policy–related think tanks, Johns Hopkins SAIS graduates are increasingly drawn to the energy and sustainability sectors.
"There is more diversity in this field than there was a few years ago," says Julie Nussdorfer, associate director of global careers at Johns Hopkins SAIS. "Energy resources, the environment, electricity markets—it is a big field right now. There are a lot more options in the renewable energy industry than there were two years ago, as renewables become more financially viable and people are looking for more sustainable options. At the same time, the oil-and-gas space continues to grow."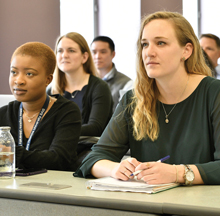 The Energy, Resources, and Environment career track at Johns Hopkins SAIS prepares students to address complex issues in the energy sector, from decarbonization to increased energy demand to urban sustainability. And SAIS offers various other career tracks as well—for those interested in economics and finance, conflict management, strategic studies, energy, and international development, for example—to give students an edge in the job market. According to Nussdorfer, employers seek out candidates with specialized knowledge and expertise who are "engaged in cutting-edge research."
The school's main campus is in Washington, DC, but students are exposed to potential employers and industries around the country and internationally through Johns Hopkins SAIS's global career "treks." During the treks, groups of students visit employers in their target industry, in cities such as Hong Kong, San Francisco, Houston, London, and Rome.
A solid alumni network also prepares students for their careers, by mentoring them one-on-one, connecting them with accomplished colleagues across sectors, and helping them come up with their perfect elevator pitch.
Johns Hopkins SAIS uses the Life Designing Model, implemented throughout the university, to guide students' career exploration. Pioneered at Stanford University, the model makes career planning an integral part of the school, so that it is not confined to a career counseling office. "With this model, we are helping students find jobs that really inspire them," Nussdorfer says. "Our goal is for our students to leave the school and work in a field they are really passionate about."
The majority of Johns Hopkins SAIS students pursue its Master of Arts degree, and 92 percent of 2019 MA graduates were employed or pursuing further studies six months after graduation. Forty-six percent work in the private sector, 19 percent in the public sector, and 18 percent at nonprofits.
Career Services
JHU SAIS Global Careers: https://sais.jhu.edu/student-experience/career-services
202-663-5710
Contact
Johns Hopkins University School of Advanced International Studies: https://sais.jhu.edu/admissions-aid
SAIS Washington, DC: sais.dc.careers@jhu.edu
SAIS Europe: sais.eu.careers@jhu.edu
Hopkins-Nanjing Center: hnccareerservices@jhu.edu