2020 Launching a Career in International Affairs
THIS GUIDE IS NO LONGER ACTIVE. For the current FP Guide, click here.
Syracuse University, Maxwell School of Citizenship and Public Affairs

Syracuse University's Maxwell School of Citizenship and Public Affairs offers a remarkable range of options for professionals interested in furthering their careers in the international arena. More than just multidisciplinary or interdisciplinary, the school's approach is truly a marriage of programs designed to provide a unique experience tailored to each student's needs.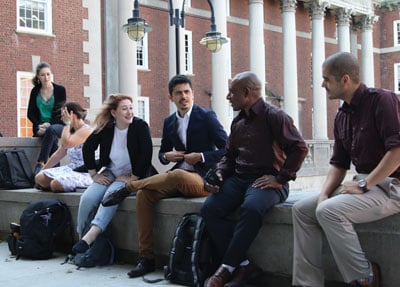 Ranked No. 1 for public affairs, the Maxwell School offers flexible degree options for students (including an online program and a Washington, DC, program) with a range of professional experiences, goals, schedules, and locations. Alongside traditional and mid-career master's degrees in international affairs and in public administration, the school offers degrees in anthropology, economics, geography, history, political science, social science, and sociology.
This mix of approaches is a powerful catalyst for solving complex issues and gives rise to the school's 10 interdisciplinary research centers, including the Moynihan Institute of Global Affairs. At the newest center—the Autonomous Systems Policy Institute—students and faculty research the social, ethical, and legal questions raised by fast-growing technologies such as self-driving cars, delivery drones, and advanced weapons systems, and help develop policy and governance frameworks.
"Through courses and hands-on experiences that blend management skills and rigorous policy analysis, our students develop the expertise they need to make a difference in the world," notes James B. Steinberg, university professor of social science, international affairs, and law. As a former US deputy secretary of state, Steinberg is one of many faculty members who provide real-world perspective. Others include a former secretary of the Navy, administrator of NASA, and CEO of Airbus, as well as faculty members who have held leadership positions at the National Geospatial-Intelligence Agency, the IMF, and the World Food Programme.
Maxwell's interdisciplinary Master of Arts in International Relations (MAIR) program also draws from the global expertise of its social science departments.
"My goal is to ensure students understand the ways in which policy—from the way a problem is defined to the parameters of possible prescriptions—can benefit from the contributions of other fields in the social sciences," says Gladys McCormick, associate professor of history and the Jay and Debe Moskowitz Endowed Chair in Mexico–US Relations. "A historical point of view allows students to see changes and continuities across time. The policies of today build on failed or successful attempts at addressing earlier social problems."
Candidates for the MAIR degree choose from among a vast spectrum of internship offerings to match their career goals—studying human migration in Ghana; intelligence analysis in Washington, DC; human rights in Brussels; and more.
Mid-career professionals can pursue an Executive Master of Arts in International Relations (EMIR) in Syracuse or at Maxwell's Washington, DC, headquarters at the Center for Strategic and International Studies (CSIS), a top-ranked global think tank. The one-of-a-kind program is taught by Maxwell faculty and CSIS scholars in the heart of the nation's capital on Embassy Row.
In Syracuse, Washington, DC, and online, diversity of perspective is at the core of each program. "I strive to draw in students who represent a range of life experiences and backgrounds," says McCormick, who was born in Costa Rica and raised in four different countries. "A cohort that includes mid-career professionals, members of the military, first-generation college students, and other backgrounds ensures that the classroom reflects what students will encounter in the world."
Career Services
https://www.maxwell.syr.edu/career