2020 Funding Your Graduate Education in International Affairs
THIS GUIDE IS NO LONGER ACTIVE. For the current FP Guide, click here.
Robust Online Portal Aids Students in Search for Financial Aid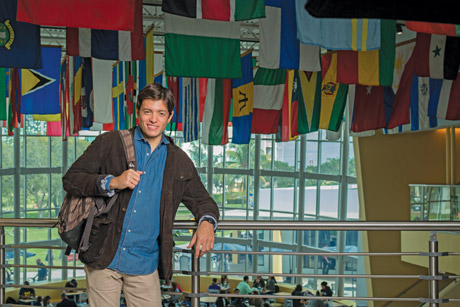 In uncertain times, when enrolling in graduate school may seem like a luxury, the Office of Financial Aid at Florida International University (FIU) is well-equipped to assist students who want to pursue a master's degree at the Steven J. Green School of International & Public Affairs.
"Feel free to reach out," says Jessica Ly, FIU financial aid officer. "We have established channels for financial aid and we're working hard to constantly update the information on our website."
The key to a student's financial aid search is the webpage https://onestop.fiu.edu. The online portal provides information about resources that include scholarships, federal and private loans, work-study positions, and paid internships.
The portal also offers information about the Coronavirus Aid, Relief, and Economic Security (CARES) Act, which provides funding that can be used to cover certain expenses, including housing, course materials, technology, health care, and childcare.
There are two other options for some Florida residents. Residents who attended public in-state universities and received monetary awards from the Florida Bright Futures Scholarship Program as undergraduates can use leftover funding to cover costs of one semester of graduate school. Residents who are both FIU employees and students may qualify for a tuition waiver that covers the cost of two courses (six credits) per semester.
Because of the coronavirus pandemic, the financial aid office cannot offer in-person service, but the staff is "working remotely and as quickly as possible to help students in any way we can," Ly says.

PAYING FOR GRADUATE EDUCATION WITH A LOAN, JOBS
Motivated by her interest in Korea and Japan, Amaya Bueno pursued several avenues to finance her graduate education at FIU's Green School. She took out a loan to pay for her first semester and then landed a graduate assistantship, which covered her second-semester tuition and provided a stipend. In her third semester, she was hired for a job in the school's Asian Studies Program. Using savings and the salary from her job, she was able to pay the tuition for her last two semesters. Bueno's hard work earned her a service award, as well as a full-time job as an academic adviser at the Green School, shortly after she completed her Master of Asian Studies degree in 2019.
---
Financial Aid
https://onestop.fiu.edu/finances
onestop@fiu.edu
305-348-7272
Contact
https://sipa.fiu.edu