2020 Funding Your Graduate Education in International Affairs
THIS GUIDE IS NO LONGER ACTIVE. For the current FP Guide, click here.
Full Tuition Funding Frees Graduates to Pursue Public Service Careers

Princeton offers a fully funded graduate education at its School of Public and International Affairs for all students, launching them into post-graduate life without the weight of student loans.
"All students receive 100 percent of tuition and required fees support," says Steven F. Petric, director of graduate admissions. "Anybody who is admitted should be able to attend, irrespective of ability to pay. That's a Princeton philosophy."
This opens Princeton's School of Public and International Affairs to everyone, including first-generation and low-income students, and those from families whose finances were shaken by the coronavirus economic downturn.
Students also are eligible for a need-based living stipend. Petric says this means they can be more engaged with learning and all that Princeton offers. "We think of it as an investment in future public servants," he says. "Other schools ask you to invest in your education. At Princeton, we invest in you."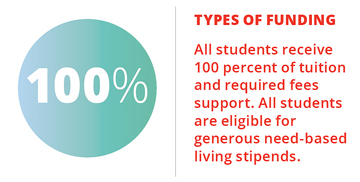 In any given year, about 80 percent of the School's graduates choose jobs in the public sector, including government agencies and nonprofit organizations. Approximately half of each graduating class focuses on domestic issues, and the other half is engaged internationally.
Students also have the advantage of access to a robust network of Princeton alumni dedicated to service and to the broader community.
"Our graduates recognize the investment the school made in their educations and lives and are eager to pay that forward," Petric says. "This is a community that extends far beyond campus."  

Scholarship Opens Opportunities
Full funding and not having to work during graduate school opened up opportunities for Marcelo Norsworthy, Master in Public Affairs '18. While at Princeton, Norsworthy pursued a Certificate in Science, Technology, and Environmental Policy and served as co-chair of the annual Students and Alumni of Color Symposium, where he focused on building inclusive movements and strengthening intersectional coalitions.


)))

Norsworthy received full tuition and fees support and a living stipend to cover expenses during his two-year program. In addition, the school financially supported his public-sector summer internship.


)))

Norsworthy now works in Washington, DC, for the US International Development Finance Corporation. "My education at Princeton helped me become more effective and rigorous in public affairs, and the funding gave me the ability to focus my career on public service," he says.
---
Financial Aid
https://spia.princeton.edu/graduate-admissions
Contact
spiaadmissions@princeton.edu
609-258-4836