2020 Funding Your Graduate Education in International Affairs
THIS GUIDE IS NO LONGER ACTIVE. For the current FP Guide, click here.
Tuition Value Meets Employment Opportunity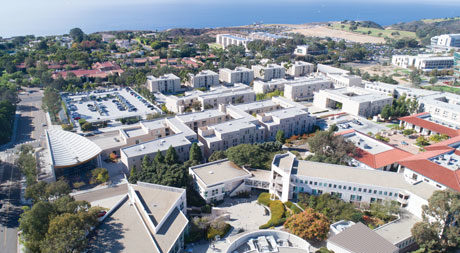 A "mosaic" of funding allows students to afford UC San Diego's School of Global Policy and Strategy (GPS), according to Sonja Steinbrech, director of degree program enrollment.
It helps that GPS's tuition and fees are a value compared with private schools, and that students can become California residents and be eligible for a $12,000 discount during their second year at the school.
"Often, students fund their education with a combination of resources," Steinbrech says. Some GPS students win a paid, private-sector internship. However, those who have an unpaid internship in the public sector or with a nonprofit are eligible for aid from the school. About 40 percent of the students hold teaching assistant or research assistant positions on the campus, and if they work at least 10 hours a week, a portion of their tuition and fees is waived.
About 25 percent of GPS students get fellowships. In awarding this merit aid, the school considers factors such as their academic record and experience. "We also look at overcoming adversity and a commitment by an individual to helping communities overcome adversity," Steinbrech says. Most US students who don't receive fellowships take out federal student loans.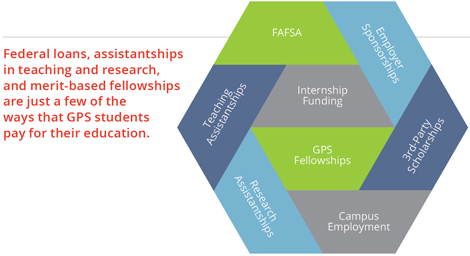 GPS also proves its value when students graduate. The California location provides attractive private-sector opportunities. Ninety percent of students are employed within eight months of graduation.
"We're very proud of that number. In comparison to peer schools, we are in the upper portion," Steinbrech says.
---

Fellowship and Research Work Finance Degree
Lily Folkerts, Master of Public Policy '21, has a fellowship from the Robertson Foundation for Government that covers all of her GPS costs and provides a stipend.

)))
Folkerts also works as a researcher for UC San Diego, which assists in defraying her living costs. She worked previously at the Latin America Working Group in Washington, DC, as a program associate, concentrating on human rights issues in Mexico and the Northern Triangle of Central America. Her Robertson fellowship requires recipients to work for the federal government for three of the first seven years after graduation. The Robertson Foundation—one of many organizations that GPS collaborates with to help students fund their education—also hosts networking events for students and alumni to connect with potential government employers. 

---
Financial Aid
https://gps.ucsd.edu/admissions/tuition/fellowships-financing.html
gps-apply@ucsd.edu
858-534-5914
Federal Loans
https://fas.ucsd.edu
finaid@ucsd.edu