2020 Leaders in Graduate Education
THIS GUIDE IS NO LONGER ACTIVE. For the current FP Guide, click here.
The Hamilton Lugar School's philosophy is guided by its namesakes, former Rep. Lee Hamilton and Sen. Richard Lugar, who represent a tradition of nonpartisan commitment to principled and pragmatic US global engagement, says former US Ambassador Lee Feinstein, the founding dean of the school. Hamilton and Lugar were foreign policy leaders in and out of Congress, who made their mark in establishing a trajectory for US foreign policy in the period leading out of the Cold War and into the next century.
As much as their intellect and ambition, what distinguished Hamilton and Lugar was a set of values—a commitment to unity, not division, Feinstein says. These values guide the school bearing their names.
"We believe that change comes from unity, building bridges, celebrating differences, and seeking shared understanding," Feinstein says.
To help its students understand the world, the school offers one of the few programs in international relations that combines the study of cross-border issues with an emphasis on developing area and language expertise. This ensures that students graduate with expertise not only in global affairs, but also the regional cultures, languages, and perspectives shaping the world.
The school's renowned program in area studies and instruction covers almost every area of the world and is central to the school's success. It offers courses in more than 80 languages, among the most of any American university, with four Language Flagship programs specializing in Arabic, Mandarin, Turkish, and Russian. In 2018, 11 of Hamilton Lugar's area studies centers and programs—the most of any school in the nation—were awarded an $18.8 million, four-year grant under the US Department of Education's prestigious Title VI program. The program gives grants to universities that improve training in critical foreign languages.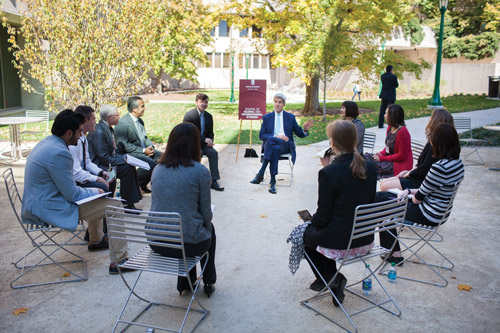 "This gives us tremendous breadth in global research and instruction, and in languages from Arabic to Zulu," Feinstein says.
The Hamilton Lugar School also emphasizes the skills that students need to be effective leaders in international affairs. With 120 full-time faculty members, whose expertise comes from virtually every discipline, the teacher-to-student ratio is low, allowing students to get personalized education at a large Tier 1 research university.
Feinstein has worked in and out of government and in and out of academia, at research institutes and at advocacy organizations, located in Washington, DC, and overseas. "Like people entering the field now, my career spanned different geographical areas and different professional fields," he says. "That's the kind of career people can expect and the kind of training we provide, grounded in the liberal arts and supported by knowledge and skills tailored to global careers."
Hamilton Lugar students work in every field. Many pursue careers in global public health, medicine, and law, both in government and in the private sector. Post-graduate employment ranges from the US Defense, Justice, and State departments to companies including Booz Allen Hamilton, Airbnb, Eli Lilly, and Google, and organizations such as the Council on Foreign Relations and the Metropolitan Museum of Art.
"There's really no career now that isn't in some way global," Feinstein says. "Every one of our students leaves the university with a deeper understanding of the pressing issues facing the world."
Graduate Degree Program Options
MA in International Studies
MS in International Studies
Area studies MA degrees in East Asian Studies; European Studies; Japanese; Latin American and Caribbean Studies; Near Eastern Languages and Cultures; Russian and East European Studies; and more
PhD programs in Central Eurasian Studies, Chinese, Japanese, and Near Eastern Languages and Cultures
The school also offers dual degree and certificate PhD programs.
Visit the Request Info page to receive more information.