2021 Applying to Graduate School in International Affairs
THIS GUIDE IS NO LONGER ACTIVE. For the current FP Guide, click here.
Flexible Program Puts Students in the Driver's Seat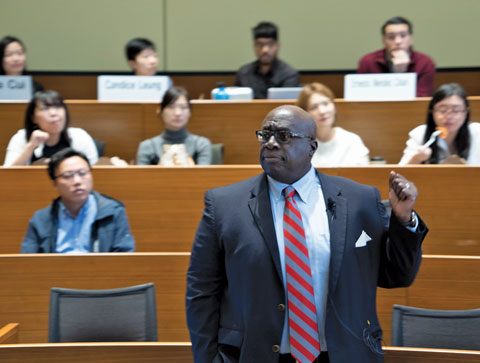 Yale University's Jackson Institute for Global Affairs is intentionally small—about 35 Master in Public Policy (MPP) in Global Affairs students and a handful in the Master of Advanced Study (MAS) in Global Affairs program. Students enjoy broad flexibility in their graduate studies and build close relationships with fellow Jackson students—a truly global network of future colleagues.
"Jackson students create their own tailored curriculum, choosing courses from across the university," says Asha Rangappa, director of admissions. "There is a way to tailor your course of study that is broader in the selection of courses and access to faculty than most policy programs, and much more specific to your area of interest."
Most successful applicants to the Jackson Institute have worked for at least two years and have demonstrated an interest in global affairs in both their academic and professional experiences. The institute looks for candidates who are clear about which global issues they want to focus on and which skills and knowledge they wish to gain from the program.
Three letters of recommendation are required, and at least one should come from a faculty member who knows the applicant well. Two academic references and one professional reference are preferred, although for those who have been out of school a long time, two professional and one academic reference are acceptable.
Although the MPP program requires a GRE score, grades and recommendations are also important.
"Students should use their personal essay to connect the dots from their academic, personal, and professional experiences to their future professional goals," Rangappa says.
---


Senior Fellows Provide Link to Real World
The Jackson Institute's

Senior Fellows program brings practitioners to

campus to teach and give talks. "People are actually meeting with leaders who have firsthand experience with making and implementing policy in different areas," Rangappa says. "Students get a chance to

learn from people who have connections to those networks." Fellows include retired Gen. Stanley McChrystal, Ambassadors Harry K. Thomas Jr. and Bisa Williams, economic policy expert Oby

Ezekwesili, and former US government lead climate

lawyer Susan Biniaz.

Program Caters to Experience

d Profession

als

The Master of Advanced Study (MAS) in Global Affairs targets mid-career global affairs professionals with at least seven years of experience. The one-year program allows students to take coursework in any of Yale's graduate and professional schools to suit their career goals. Only a handful of students are admitted each year, and they include foreign and US diplomats,

military officers, journalists, and business leaders.
---

Graduate Degree Program Options
• Master in Public Policy (MPP) in Global Affairs
• Master of Advanced Study (MAS) in Global Affairs
The Jackson Institute also awards joint degrees in public health, law, management, forestry, and environmental studies.
Deadlines for Fall 2022
Early Application (with no fee): December 1, 2021
Regular Application (with fee) and Financial Aid/Scholarships: January 2, 2022
Standardized Exam Scores: A GRE is required for the MPP, but not the MAS.
Recommendation Letters: Three are required.
Application Checklist: https://jackson.yale.edu/study/mpp/application-process