2021 Charting a Career Path in Global Affairs
THIS GUIDE IS NO LONGER ACTIVE. For the current FP Guide, click here.
Hands-On Programs Offer Authentic Public Policy Experiences
At Seton Hall University's School of Diplomacy and International Relations, two programs offer hands-on research experiences that give graduates a boost in the job market.
A National Security Fellowship (NSF) program matches graduate students with US government security projects. Teams of six or seven students are assigned to projects in the military or at a diplomatic government agency, and they draft policy recommendations that are delivered to government officials. In April 2021, the NSF team presented a briefing on counterterrorism to senior staff of the National Security Council. Prior NSF projects have been on topics ranging from building US leadership in Afghanistan to tackling violent extremism in northern Africa's Maghreb region.
"The NSF is an opportunity for hands-on research experience, where students propose solutions in a format the real world is looking for, outside an academic setting," says Daniel Kristo, assistant dean of graduate enrollment management. "Many of the policy recommendations have been implemented."
The US Secret Service, US Army, and US Department of Defense have hired graduates who participated in the NSF.
"NSF students have access to an intimate working environment and are able to take a leadership role," Kristo says. "Our students are adding diverse voices and perspectives to entrenched foreign policy operations."
DiploLab is another real-world School of Diplomacy program. Here, students partner with a professor on projects that prepare them for work in government, at nonprofit organizations, or in the private sector. DiploLab research has delved into international relations issues—from the economy in war-torn Yemen to separatist movements—and has been featured in publications including Foreign Policy and The Washington Post.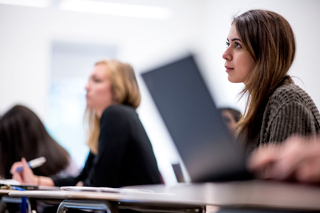 Furthermore, four School of Diplomacy first-year graduate students were selected for the 2021 inaugural class of Public Policy New Voices Fellowship. A collaboration among leading graduate schools, corporations such as Disney,  and global strategic advisory firms, the fellowship aims to build diversity in the public policy arena. During the year-long program, fellows will participate in career seminars and networking events and will be able to compete for internships and attend virtual public policy sessions with executives of corporations including AT&T, Walmart, and Netflix.
"The past year has been both good and bad as far as equity and diversity in public policy," Kristo says. "Remote learning has allowed more access, but we also know we want new voices in public policy. This program allows us to nurture that."
---
Student Achieves Career Goal Through Real-World Opportunities

Tamia Wallace, MA 2021, served on the National Security Fellowship research team and made policy recommendations on great power competition and counterterrorism to the Department of Defense and the US National Security Council. For academic credit, she interned as a researcher with the US State Department's Bureau of Oceans and International Environmental and Scientific Affairs. Wallace gained additional experience under a faculty research assistant scholarship. She took advantage of campus leadership opportunities as an organizer for the School of Diplomacy's diversity, equity, inclusion, and justice initiatives, serving on the DEIJ Coalition, the Black Diplomacy Student Organization Board, and the Graduate Diplomacy Council Board. These experiences allowed Wallace, from Fredericksburg, Virginia, to achieve her career goal: a job at the Department of Defense.
---
Contact
https://www.shu.edu/diplomacy
diplomat@shu.edu
973-275-2515