2022 Applying to Graduate School in International Affairs
THIS GUIDE IS NO LONGER ACTIVE. For the current FP Guide, click here.
Equipping Students With the Skills and Experience to Tackle Large-Scale Crises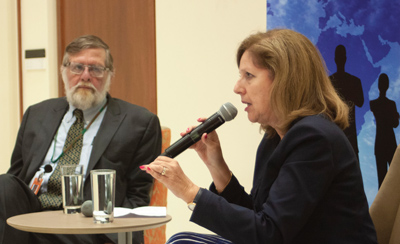 With its "Do Something That Matters" tagline and location in a dynamic, global city, the University of Miami's MA in International Administration (MAIA) program seeks students who have the determination to tackle the large-scale crises that confront our world.
"We live in an environment of constant, intersecting crises, so we look for students with the potential to become what we think of as international civil servants who are equipped to manage crises that involve public health, natural disasters, and human-generated violence," says Bradford R. McGuinn, director of the MAIA program.
McGuinn encourages applicants to submit personal statements that are "well-crafted stories" of their experience, academic interests and activities, and volunteer work. "Take yourself out of yourself and ask how you can use your time and talents for the betterment of others."
The MAIA program offers an interdisciplinary curriculum that prepares students for careers in the administration of public and private organizations in the United States and abroad. Students take core courses in various aspects of international affairs that include economics, global health, migration, and geopolitics. Many courses include tabletop exercises designed by practitioners that put theory and research into practice—an important component of the program.
McGuinn's "Disaster Response and Humanitarian Intervention" course includes a tabletop exercise designed by a security expert who has worked with the Federal Emergency Management Agency. It requires students to assume different roles and responsibilities in the management of a flood, tornado, or other natural disaster.
Maryann Tatum Tobin, assistant dean for professional education, encourages applicants to be open-minded about the possibilities of an MAIA degree. "No matter where you work, you will address issues of security, sustainability, resilience, and recovery," she says. "These are themes applicable to any profession—not just international relations."
---

PROGRAM HIGHLIGHT | Intelligence Expert to Join MAIA Faculty
This fall, MAIA students have the opportunity to study with leading East Asia expert Katrin Fraser Katz, a former director for Japan, Korea, and oceanic affairs at the National Security Council. As a scholar-in-residence, Katz will teach the "Intelligence and National Security" course and share her expertise in the interplay of cooperation and conflict in East Asia's political, economic, and security dynamics. Previously, Katz served as a special assistant at the US Department of State and an analyst at the Central Intelligence Agency.
---


Graduate Degree Program Options
• MA in International Administration (MAIA)
• Graduate Certificate in Security Management
• MA in International Administration with a Graduate Certificate in Security Management
• MA in International Administration with a Graduate Certificate in Geospatial Technology
• Dual MA in International Administration/Master of Public Health
• Dual MA in International Administration/Master of Public Administration
Deadlines for Fall 2023
Application: May 15, 2023
Financial Aid/Scholarships: May 15, 2023
Coverdell, Rangel, Payne, and Pickering Fellows must adhere to the deadline of those organizations as well.
Standardized Exam Scores: The GRE is not required.
For International Applicants: TOEFL or IELTS is required for all international students in order to demonstrate sufficient English competency.
Recommendation Letters: Three letters of recommendation are required. Two letters should be from a professor/faculty member. One letter should be from an employer, colleague, or other professional source.
The most heavily considered component in the application, outside of academic performance, is the admissions interview, which may be conducted in person, over the phone, or via video conference.
Application Checklist:
https://maia.as.miami.edu/admission/requirements/index.html