2022 Applying to Graduate School in International Affairs
THIS GUIDE IS NO LONGER ACTIVE. For the current FP Guide, click here.
Yale Prepares to Admit Inaugural Class for Newly Formed School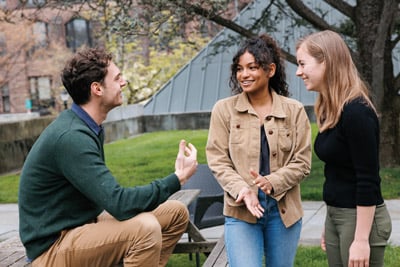 At Yale, a new chapter has begun in its renowned global affairs program. In July, the program became its own school, called the Yale Jackson School of Global Affairs. Its mission is to train and equip a new generation of leaders to devise thoughtful, evidence-based solutions to challenging global problems.
"This is a big deal with a lot of fanfare," says Asha Rangappa, assistant dean in the Office of Admissions. "It is the first independent professional school that Yale has opened since 1976, when the Yale School of Management opened."
The transition is expected to enhance the student experience, while retaining aspects that make the school stand out from its peers. It is a small program—enrolling about 35 students per class in its Master in Public Policy in Global Affairs (MPP) program—and it offers flexibility to access other departments and schools at Yale. "This expands the resources that go to students," Rangappa explains. "We'll be hiring more faculty in many different disciplines, which will expand the course options for students within Jackson. We're also going to be expanding our physical footprint on campus over the next few years."
The reason for the change, Rangappa notes, is to strengthen the recognition of the "increasing number of interdisciplinary global problems requiring policy solutions that approach issues from a number of different angles." The goal, she says, is to give students the academic knowledge and practical policy skills to develop and execute solutions to these global problems, whether it is climate change, global health, the rise of authoritarianism around the globe, or other urgent concerns.
Jackson's transition to a stand-alone professional school follows a move by Yale this past year to begin offering the MPP degree. These two changes help elevate Yale to the top tier of global affairs in academia, Rangappa says.
---

PROGRAM HIGHLIGHT | Dean's Vision for New School Focuses on Breaking Silos
Opening a new global policy school at Yale helps recognize the dean's vision of breaking the arbitrary boundaries across disciplines in addressing the world's most pressing problems. The school has revamped its first-year curriculum to look at modern challenges through the lens of history, using the tools of economics, data science, and comparative politics to find cross-disciplinary solutions. Jackson also plans to bridge theory and practice by broadening its related centers and programs, making Jackson the epicenter of global activity on campus. For example, the Jackson School recently brought a new research hub, the International Security Studies program, under its umbrella, dedicated to bringing together scholars and practitioners in international history, grand strategy, and global security.
"Jackson brings a new approach to policy by organizing the school around problems, rather than traditional academic departments," says inaugural Jackson School Dean Jim Levinsohn. "Our students leverage the knowledge of the best academic faculty across campus and the experience of the top international practitioners around the world."
---


Graduate Degree Program Options
• Master in Public Policy (MPP) in Global Affairs: two-year program
• Master of Advanced Study (MAS) in Global Affairs: one-year program for mid-career professionals
• The Jackson School also awards joint degrees in public health, law, business, and environmental studies.
Deadlines for Fall 2023
Application: January 2, 2023
Those who apply by December 1, 2022, do not have to pay the $75 application fee.
Financial Aid/Scholarships: January 2, 2023
Standardized Exam Scores: A GRE is required for the MPP, but not the MAS application.
Recommendation Letters: Three letters are required; it is recommended that students submit two academic and one professional reference.
Application Checklist: https://jackson.yale.edu/admissions/mpp/application-process