2022 Charting a Career Path in Global Affairs
THIS GUIDE IS NO LONGER ACTIVE. For the current FP Guide, click here.
In International Miami, Graduates Are Heavily Recruited to Serve, Lead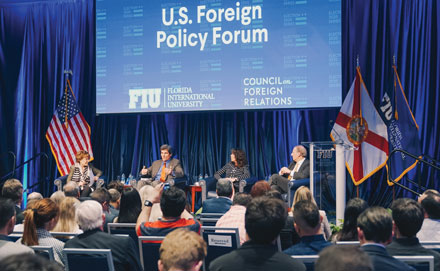 Florida International University (FIU) is powering the next generation of foreign affairs leaders. Alumni have ascended to the top levels of the federal government, as well as forged careers within the private sector and at nonprofit organizations.
The pipeline for this success: FIU's Steven J. Green School of International & Public Affairs. The globally recognized institution is a member—one of just 38 worldwide—of the Association of Professional Schools of International Affairs.
Located in diverse, metropolitan Miami, the Green School offers 37 academic programs and caters to students' interests with opportunities that jump-start and enhance careers.
More than 100 students annually intern for Washington-based government agencies, multinational companies, and non-governmental organizations with which the school partners. Another 300 students participate in all-expenses-paid "fly-in" seminars, complete with training, mentorship, and networking, at the university's hub on Capitol Hill. The experiences have helped students and recent alumni earn prestigious Rangel and Payne fellowships to catapult their careers.
Associate Dean Shlomi Dinar attributes Green School graduates' success to the work of professors "who engage in robust research" that is well funded and published in top journals. Several former officials have joined the faculty in recent years, among them a president of Costa Rica, a UN ambassador, and a US assistant secretary of state. Students learn from cutting-edge researchers and former leaders who have confronted real-world problems.
Ana Rosa Quintana earned an undergraduate degree and a master's degree from the Green School and serves as a professional staff member for the Foreign Affairs Committee of the US House of Representatives. She appreciates the classroom instruction she received, as well as the ongoing support of her most valued professors, among them Eduardo Gamarra, an expert on Latin America who works in the areas of security, democratization, and elections and, Quintana says, "whose opinions and research I still rely on to this day."
Earlier this year, US Deputy Secretary of State for Management and Resources Brian P. McKeon visited FIU to address students interested in working for the State Department. His stop followed one by US Agency for International Development Administrator Samantha Power, who signed an agreement to recruit more students from FIU, particularly from underrepresented groups. 
Since the 1980s, FIU has joined USAID in launching groundbreaking reforms worldwide. Other critical partnerships exist with the Organization of American States, the Inter-American Development Bank, and the Pan American Health Organization.
---
MA in Global Affairs: Students Solving Real-world Problems
Students pursuing an MA in Global Affairs work on critical issues—human trafficking, poverty alleviation—even before graduating.
>>>A capstone project connects them with agencies, multinational corporations and non-governmental organizations for which they rely on previous coursework as well as instruction in data-based techniques to produce 35-page research reports over several weeks.
>>>"They are essentially consultants for that particular organization," Associate Dean Shlomi Dinar explains of students who work with US Homeland Security, the UN, US Africa Command, and others.
>>>In exchange for work that they formally present to leadership, students receive unparalleled access, mentoring, and networking to help them develop skills for rewarding careers. Many accept full-time positions with those same organizations.
---
Contact
https://sipa.fiu.edu
international@fiu.edu
305-348-7266