2022 Charting a Career Path in Global Affairs
THIS GUIDE IS NO LONGER ACTIVE. For the current FP Guide, click here.
One-Year Hybrid Program Offers Leadership Opportunities for Seasoned Executives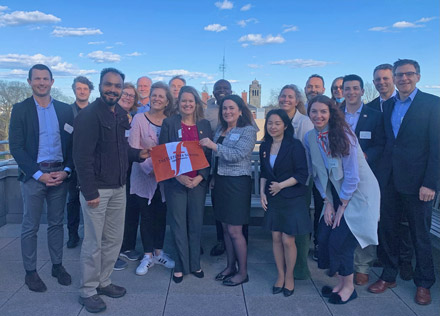 Fletcher's one-year Global Master of Arts Program (GMAP), the first of its kind, is a blended curriculum for mid- to senior-level executives seeking a master of leadership in global affairs, while maintaining a full-time career.
"Students in the program are a diverse group of leaders in businesses, government, and non-governmental organizations," says Hilary Price, assistant dean for professional education. "Through the cohort experience, students navigate a set curriculum together. In the process, they get to know each other well, resulting in strengthened lifelong social and professional networks."
Among the learning pathways that make the GMAP program unique are intensive online skill summits designed to help apply knowledge to real-world situations. Students select skill-development courses in communication, collaboration, planning, budgeting, writing, project management, and problem solving. They also participate in a "Red Team" exercise, a real-world crisis simulation, to help them learn how to optimize decision-making from multiple perspectives. 
The online, cohort-based learning experience is anchored by three live residencies, during which students engage in skill summits, workshops, and community-building activities. The first of the residencies takes place at The Fletcher School in August, followed by one in an international location in January, and then a virtual residency in April.
Fletcher's GMAP curriculum features a set of foundational courses designed to help students work toward personal leadership goals, taking advantage of faculty and peer mentoring, as well as relevant skill building.
Course topics include negotiations, law, politics, economics, international security, and global governance, which serve as a basis for topical courses in climate policy, the digital world, and current developments in global affairs.
GMAP offers a multidimensional view of pressing global issues, Price says. "Our faculty—diverse in experience, scholarship, and a range of expertise—deploy effective learning modes to shed light on the most demanding issues faced by today's global leaders," she explains.
When it's time to graduate, GMAP helps students leverage Fletcher's expansive professional networks. "The power of these networks is a draw for applicants who seek not only a lively esprit de corps with their GMAP cohort and alumni, but also a chance to broaden their influence and opportunities by connecting to the wider Fletcher community across the globe," Price says.
---
Fletcher's GMAP Helps Executives Advance Without Leaving the Workforce
Founded in 2000, Fletcher's Global Master of Arts Program (GMAP) is a transformative one-year hybrid program for global executives seeking to advance their career with without leaving the workforce.
>>>GMAP students come from all corners of the world to learn amidst fellow senior professionals, from world-class faculty who are sought after by the world's top decision makers for their expertise. They become part of the institution that introduced graduate international affairs education in the United States almost 90 years ago—and remains the field's premier innovator.
>>>Graduates leave with an unparalleled framework of skills, knowledge, and insights, uniquely prepared to embrace the complexity and speed of change required of today's global leaders, and armed with a global, lifelong network of alumni.
---
Contact
https://fletcher.tufts.edu
fletcheradmissions@tufts.edu
617-627-3700