2022 In-Demand Careers
THIS GUIDE IS NO LONGER ACTIVE. For the current FP Guide, click here.
Robust Career Networking Allows Students to Tap into Alum Expertise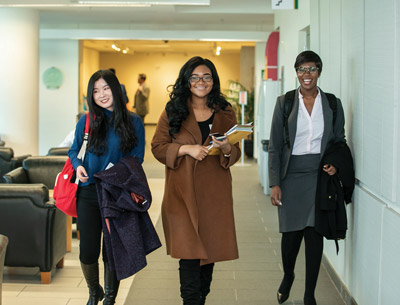 A strength of the Schar School of Policy and Government at George Mason University is the powerful career network of current students, alumni, and faculty. How these connections are made is a little different now than pre-pandemic, but school leadership has gotten creative in fostering meaningful professional relationships.
In November 2021, the Schar School's Master's in Public Administration (MPA) program hosted a virtual panel discussion that put prospective and current students in touch with program graduates, who talked about how their graduate education enabled them to hone their interests and advance their careers.
The graduates, who represented the US Department of Homeland Security, a regional health system, and the office of US Sen. Mark Warner, talked about specific courses and faculty that had given them "a leg up in their careers," says Bonnie Stabile, director of the Schar School's MPA program.
"Students hear from alums who have walked the same path as them and sat in the same classrooms," says Stabile. "They're hearing from people who have put into practice what they're studying."
This kind of event augments the school's other career support resources, as well as the networking that happens organically in every classroom. Most Schar School graduate students hold full-time jobs while they pursue their degree, so classmates can share valuable connections and insight with each other. Many of the school's faculty are also working practitioners, allowing them to better guide students toward their career goals.
Typically, the jobs that Schar School graduates fill are pretty evenly divided across four sectors: the federal government, private sector general, private sector consulting, and nongovernmental organizations. 
Stabile notes that recently there has been more interest among students in management positions at nonprofit organizations that deal with, for instance, environmental or social equity issues. "We're seeing more students make career choices based on issues that they see as foundational to their futures," she says.
That being said, a career path in public administration doesn't require applicants to sacrifice their earning potential. The median salary for graduates just a few months out of school is $117,000.
Both the MPA and the Master's in Public Policy programs offer a wide range of possible concentrations, including international governance and institutions, and global medical and health policy. The Schar School also offers master's degrees in biodefense, international security, global commerce and policy, and political science, as well as 11 different graduate certificates. Classes are offered in the evening to accommodate working students. Part-time and full-time options are available, as well as both online and in-person degree options.
Contact
https://schar.gmu.edu/contact-admissions
https://schar.gmu.edu/career
schar@gmu.edu
703-993-8099