2022 In-Demand Careers
THIS GUIDE IS NO LONGER ACTIVE. For the current FP Guide, click here.
Training Leaders in Public Health Has Never Been More Important

Students seeking an advanced degree at Johns Hopkins Bloomberg School of Public Health may find themselves in a lab or classroom every day. Or they may never set foot on the campus.
So it goes at the country's largest and #1-ranked school of public health, where programs are designed to meet students wherever they are, both in life and location.
"Whether students are in Baltimore, in Topeka, or in Bangladesh, we really pride ourselves in providing a high-quality experience," says Elizabeth Stuart, vice dean for education. "We have online programs, on-site, full-time, part-time, and programs that cut across these formats."
Public health has been in the spotlight during the COVID-19 pandemic. The Bloomberg School is fully engaged, with scores of faculty and students working directly on pandemic-related projects and initiatives.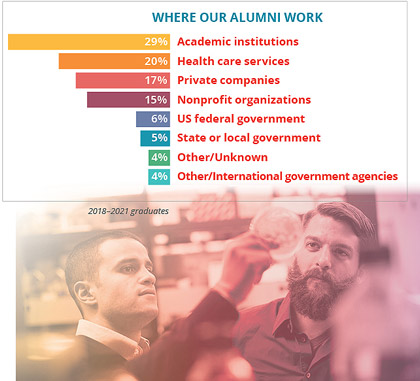 "It is an exciting time for public health," Stuart says. "The sense of mission and purpose is, in some ways, greater than it has ever been."
Located in Baltimore, the Bloomberg School trains more than 3,600 graduate students from roughly 100 countries. It offers more than 90 degree programs, 40 certificates, and more than 1,800 individual courses.
The flagship Master of Public Health (MPH) degree program is the ultimate example of the school's flexible and customizable studies, offering a dozen different concentrations that range from health systems and policy to infectious disease.  Students must complete 100 hours of practical work in the field, as well as a culminating capstone project.
Because the MPH program requires at least two years of post-baccalaureate health-related work experience for admission, it draws a diverse group of students, ranging from physicians and nurses to policymakers, health educators, and those working at nonprofits—and all are students who value flexible options.
A full-time student can complete the program in less than a year, but part-time students have as long as four years to do so. The MPH degree can be obtained entirely online, or students can combine the digital experience with in-person learning. "We really aim to reach students where they are," Stuart says. "We provide the supports to really help them all succeed."
After graduating, students join an alumni network of more than 27,000 professionals worldwide. More than 90 percent find work in the public health field within a year of graduation—and those roles are expanding.
"People who have training and experience in thinking about all the different components of health and the things that contribute to health are going to be really important moving forward," Stuart says.
Contact
https://publichealth.jhu.edu/offices-and-services/office-of-admissions-services
jhsph.admiss@jhu.edu
410-955-3543