2023 In-Demand Careers
THIS GUIDE IS NO LONGER ACTIVE. For the current FP Guide, click here.
Experiential Learning Locally and Globally Jump-Starts In-Demand Careers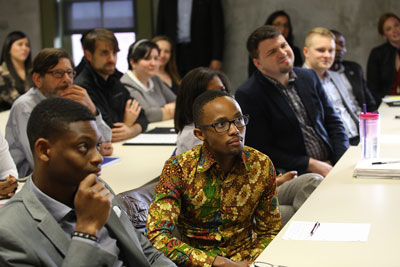 At the Clinton School of Public Service, the presidential namesake's influence is manifested in the curriculum's robust field service program.
"The experiential learning program has defined us since our founding," says Nichola Driver, faculty director for the office of field service and an assistant professor at the Clinton School of Public Service. "It was a big part of President Clinton's vision for the school, as he wanted students to learn by doing and be engaged in the community, working with organizations and people."
In fact, 25 percent of the Clinton School's Master of Public Service (MPS) curriculum comes from direct field service learning, and Clinton School students have completed nearly half a million hours of field service since 2005.
The Clinton School's field service program provides MPS students with three hands-on experiences. The first is a local, team-based program in Arkansas. The second is an eight-to-10-week international placement, supported by a stipend, that occurs in the summer after students' first year. The third is an in-depth capstone project that can take place anywhere in the world.
During an MPS student's time at the Clinton School, they might evaluate whether local Arkansas nonprofits are meeting the needs of impoverished rural residents, as well as work to improve learning outcomes for Tanzanian children through USAID. Driver says that such wide-ranging placements provide students with a competitive advantage, as active, engaged experiences replicate the rigor and independence of public service careers. "They're in that moment where they are able to grow through hands-on experience," she explains.
Driver says that students often cite the Clinton School's field service program as a career booster that helps them land jobs and clarify their own ambitions.
In recent years, Clinton School students have accepted roles at organizations such as Walmart, World Bank, and UNICEF. The field service experience and the Clinton School's close relationships with partners equip students with the skill set to land those types of jobs and be successful in them.
"Since we are consistently communicating with partners, we see the skill sets they want," Driver says. "We take our partners' requests and then we adapt to those requests. Our curriculum is dynamic."
Driver says that in recent years, the Clinton School's field service partners have expressed the importance of data and communication skills. The Clinton School now offers two new graduate certificates: communication for social change, and program planning and evaluation for social change. Driver says these skills, coupled with field service, help MPS students and grads "serve rather than steer," as they design public service programs that reflect community needs.
Clinton School of Public Service at the University of Arkansas
https://www.clintonschool.uasys.edu/admissions/mps
admissions@clintonschool.uasys.edu
501-683-5228