2023 In-Demand Careers
THIS GUIDE IS NO LONGER ACTIVE. For the current FP Guide, click here.
Growing Energy Sector Offers Myriad Job Opportunities

Nevi Cahya Winofa started at Rice University's Master of Energy Economics (MEECON) program in August 2021 after completing a 10-month internship at an Indonesian company that supports geothermal projects. At Rice, she explored different career options. By fall of 2022, Winofa had landed a job as a researcher with the National Renewable Energy Laboratory in Golden, Colorado.
Winofa attributes her success to the small classes and robust advising offered by the one-year MEECON program. Along with the Master of Global Affairs (MGA) program, MEECON is part of Rice's School of Social Sciences. Small by design, each program enrolls a cohort of about 25 students annually. The two-year MGA program is co-sponsored by the School and the James A. Baker III Institute for Public Policy, which is housed on Rice's campus in Houston.
Michael D. Maher, senior program advisor in the Center for Energy Studies at the Baker Institute, mentored Winofa while she was job hunting. "Working with advisors, students do a deep dive to weave the story of their work experience and their Rice education to find the job that best suits their abilities," Maher says.
Students are urged to use the resources of Rice's Center for Career Development and to attend Baker Institute events that bring leading experts to campus for talks and panel discussions.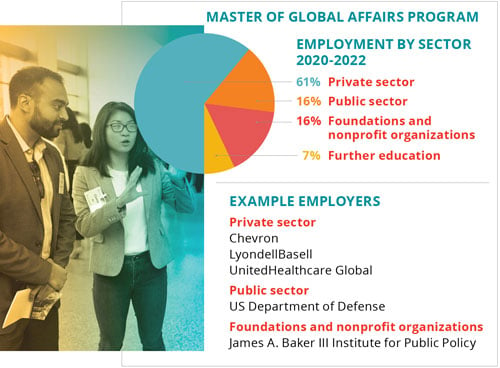 When Geoffrey R. Pyatt, assistant secretary for the federal Bureau of Energy Resources, visited the Baker Institute in February 2023, he spent 30 minutes speaking directly with MGA and MEECON students following his scheduled talk. A week earlier, during a panel discussion about hiring and retention in the energy industry, the moderator invited student audience members to stand up and talk about their interest in the field. 
Maher describes MEECON as "a hyper-focused MBA program" with an emphasis on the energy sector, offering courses in macroeconomics, microeconomics, geopolitics, and transportation economics, among others. MEECON graduates are employed overseas and throughout the United States, particularly in Houston, which is home to global energy companies, Fortune 500 organizations, local and federal government agencies, and international nonprofits.
MGA graduates take jobs in communications, analysis, economic development, and government affairs in the public sector and the energy industry throughout the United States and overseas. 
Born and raised in Indonesia, Winofa says she hopes to return there one day, most likely to work in the electric vehicle industry. Indonesia is the world's largest producer of nickel, which is used in the production of electric vehicle batteries.
"I'd like to support increased electric vehicle deployment in my country by helping to create a sustainable supply chain and maximize the economic base of the industry," she says.
Rice University, School of Social Sciences
https://socialsciences.rice.edu
socialsciences@rice.edu
713-348-2367