Leaders in Graduate Education
THIS GUIDE IS NO LONGER ACTIVE. For the current FP Guide, click here.
Judith Kelley, Dean
Duke University, Sanford School of Public Policy
Within weeks after Yazidi activist Nadia Murad from Iraq received the Nobel Peace Prize, she was on stage at Duke University's Sanford School of Public Policy to talk about her campaign to end sexual violence in war. Sanford School Dean Judith Kelley drew on her own research on human trafficking to interview Murad, illustrating how Sanford's faculty members help students probe connections between the global and the local.
"We brought an incredibly important conversation to campus as a way of engaging with the world," says Kelley. "The whole world has gotten more closely connected, and the issues we have to contend with are growing exponentially."
Kelley's work focuses on how states, international organizations, and nongovernmental organizations can promote domestic political reforms in problem states, and how international norms, laws, and other governance tools influence state behavior. In addition to human trafficking, she studies the effectiveness of various approaches to international election observation and of initiatives that seek to advance human rights and democracy.
Such work is an example of the many paths that graduate students can pursue at the Duke Sanford School. Collaborations occur across the university and far beyond. In global health, for example, research spans medical schools at Duke and in Singapore, as well as the Duke Global Health Institute. Sanford's energy and environment programs collaborate with the Nicholas School of the Environment and the Nicholas Institute for Environmental Policy Solutions at Duke.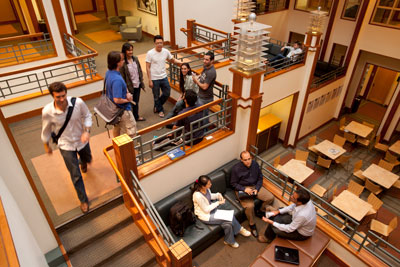 Students interested in national security benefit from the American Grand Strategy Program, which brings high-profile speakers to campus from the security, diplomatic, and military worlds. Previous guests have included former U.S. Ambassador to the United Nations Nikki Haley and Marine Gen. Joseph Dunford, the chairman of the U.S. Joint Chiefs of Staff.
The Sanford School's flagship graduate degree is the Master of Public Policy. The school's Center for International Development also offers a Master of International Development Policy for mid-career professionals. Last year, the program drew students from 20 countries.
Sanford's Global Policy program in Geneva provides summer internship and education options. And an International Master of Environmental Policy program prepares students at Duke Kunshan University in China to address global environmental issues and policies through a multidisciplinary lens.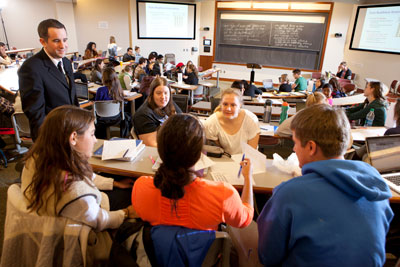 "There are just so many opportunities for our students," says Kelley.
To advance constructive dialogue in an era of social divisions, Duke Sanford School courses address issues such as power imbalances and structural inequality. Outside of class, a committee on diversity and inclusion holds brown-bag discussions and provides training. Student groups such as Sanford Pride, the Latin American and Caribbean Group, and Sanford Women in Policy strive to make the campus welcoming to all.
With only 65 to 80 students per cohort, students can have a personalized experience and tailored career counseling. Typically, about 75 percent of graduates are employed within three months of beginning their job search, and 95 percent find jobs within one year.
"With our small program size and collaborative spirit, students can establish career connections that reach across continents," says Kelley.
Graduate Degree Program Options:
Master of Public Policy (MPP)
Master of International Development Policy (MIDP)
International Master of Environmental Policy (IMEP)
PhD in Public Policy
Visit the Request Info page to receive more information.