2018 Launching a Career in International Affairs
THIS GUIDE IS NO LONGER ACTIVE. For the current FP Guide, click here.
Johns Hopkins University
School of Advanced International Studies
Job opportunities for graduates of the Johns Hopkins University School of Advanced International Studies (SAIS) have been expanding to some unexpected quarters. Not only is U.S. public sector employment holding steady, but Johns Hopkins SAIS grads are moving into "disruptive" enterprises that offer groundbreaking new technologies, products, and approaches. At the same time, recent grads are also finding expanded roles with technology leaders such as Facebook, Google, Amazon, and Tesla.
Employers continue to need people who understand how the world works.Jean-Amiel Jourdan, Director of Global Careers, Johns Hopkins SAIS"Historically, we have had people working in government affairs at such companies," says Jean-Amiel Jourdan, director of Global Careers at Johns Hopkins SAIS. But demand for international affairs expertise continues to expand throughout business operations. "Now, the vast majority of our graduates who get hired by these firms are in business development, logistics, supply-chain roles, or energy solutions."
Cutting-edge technology employers are interested in the same international relations skill set as more traditional employers such as McKinsey & Company, the U.S. Department of Defense, the International Rescue Committee, and the World Bank Group. "Employers continue to need people who understand how the world works and how development works," Jourdan says.
The variety of companies hiring Johns Hopkins SAIS grads grew to 250 unique employers for the class of 2017, from 221 a year earlier. Among the newer tech employers hiring the school's recent graduates is Dataminr, founded in 2009 to provide clients with urgent information, including the first signal of "high-impact events," such as a terrorist attack in Brussels or a major demonstration in Turkey. Such alerts allow the client to act even before developments make the news.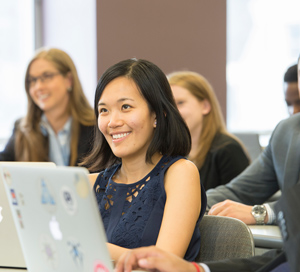 The majority of Johns Hopkins SAIS students pursue its Master of Arts (MA) degree, and 94 percent of MA graduates in the class of 2017 were employed or pursuing further studies six months after graduation.
The school—whose main campus is based in Washington, D.C.—helps expose its students to new sectors by expanding its global career treks, which take groups of prospective graduates on visits to three continents and to U.S. cities such as New York; Denver; San Francisco; and Houston. This year, the program added Austin, Texas, and Vienna, Austria, for a total of 19 treks. The Austin and Denver trips included visits to renewable energy–related enterprises. Another strong energy sector employer is Bloomberg New Energy Finance, which students have visited in career treks to San Francisco, Beijing, and Hong Kong.
Despite expectations of decreased public sector hiring in 2017, the portion of Johns Hopkins SAIS graduates moving into government positions worldwide increased to 21 percent, from 19 percent in 2016, because of growth in the number of non-U.S. graduates moving into public sector roles abroad, Jourdan says. The school continues to encourage students to look for global job opportunities in fast-growing markets such as Southeast Asia or the Persian Gulf.
"Last year at this time, there was a lot of uncertainty, not only for international graduates seeking opportunities in the U.S., but overall," says Jourdan. "It's a very good sign for our approach—and for international relations schools in general—that the employment outcomes are very strong."
Career Services
JHU SAIS Global Careers
www.sais-jhu.edu/career-services
Contacts
Johns Hopkins University (JHU), School of Advanced International Studies (SAIS)
www.sais-jhu.edu/admissions/fp
SAIS Washington
sais.dc.careers@jhu.edu
SAIS Europe
sais.eu.careers@jhu.edu
Hopkins-Nanjing Center
hnccareerservices@hnc.nju.edu.cn
Visit the Request Info page to receive more information.