Welcome to the FP Education Guides

Winter 2023 FP Guide: Leaders in Graduate Education in International Affairs
A graduate school experience is not defined solely by the degree program's curriculum. Of great importance is the transfer of knowledge, lessons, and skills from experts and educators—such as professors, deans, directors, and alumni—to students. Meet the leaders who shape students' experiences and are developing the next generation of global changemakers. Learn more.
---
FP GRADUATE EDUCATION GUIDES
Aspiring international affairs professionals rely on FP Graduate Education Guides (FP Guides) for information and insights about graduate program options. At the same time, schools of international affairs look to FP Guides to reach qualified prospective students whose aim is to develop their knowledge, skills and professional qualifications with the goal of meaningful contributions through their career and making a positive difference in their field. 
FP Guides offer timely supplements within the award-winning Foreign Policy magazine, the leading source for understanding and analysis about global affairs for 8-million-plus monthly readers. The FP Guides are in a unique position to link professionals interested in advancing their careers with specific and timely education opportunities.
FP Guides offer readers access to current program information and an inside look at leading programs. They meet global leaders, admission and career service directors, and faculty members and students who are making a difference through cutting-edge research, partnerships and fieldwork. 
---
RECENT FP GUIDES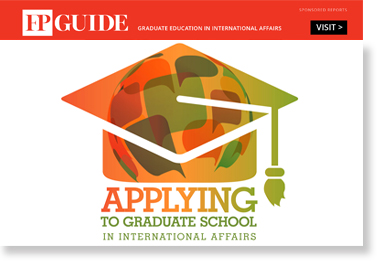 Fall 2022 Applying to Graduate School
Learn directly from top schools what their admissions look for and how to effectively communicate your interest and qualifications.
Summer 2022 Charting a Career Path in Global Affairs
Highlights how earning a graduate degree or certificate can prepare students for a fulfilling international career.
Spring 2022 In-Demand Careers
Leaders from prominent universities share employment trends and some of the most in-demand careers for aspiring global leaders.
Winter 2022 Leaders in Graduate Education
Features leading educators preparing the next generation of international affairs professionals to tackle the world's challenges.
MORE FP GUIDES 
FP GUIDES are custom-content reports appearing in FP magazine, on ForeignPolicy.com, and on FP GUIDE websites. The FP GUIDES share useful information about programs and services of interest to FP readers and highlight leading organizations in global policy and international affairs education.
FP GUIDES are prepared by the business department of The FP Group and do not involve the editorial department of FP magazine.
Director of Academic Partnerships: Sherri Greeves, sherri.greeves@foreignpolicy.com