Welcome to the FP Education Guides

How are leading educators preparing the next generation of global professionals to tackle the growing challenges of the 21st century? The Winter 2019 FP Guide to Leaders in Graduate Education features innovative deans, program directors, and faculty members from 10 top schools of international affairs, public policy, and global studies. You will learn how they are shaping tomorrow's experts in global security, development, diplomacy, global health, and much more.
---
FP EDUCATION GUIDES
Aspiring international affairs professionals rely on FP Guides for information and insights about their graduate program options. At the same time, schools of international affairs look to FP Guides to reach prospective students who aim to develop their professional qualifications while also working to help make the world a better place.
FP Guides are offer timely supplements within the award-winning Foreign Policy Magazine, the leading source for insight and analysis on global affairs for its 2.5 million-plus readers. The FP Guides are in a unique position to link professionals interested in furthering their career with timely education opportunities.
FP Guide readers gain access to current program information and an inside look at leading programs. They meet:
Global leaders, such as James Stavridis, dean of the Fletcher School of Law and Diplomacy at Tufts University and retired supreme allied commander of NATO; and Joel Hellman, dean of Georgetown University's Walsh School of Foreign Service (SFS), who previously served Chief Institutional Economist at

 

the World Bank.
Career services directors, such as Jean-Amiel Jourdan, director of Global Careers at the Johns Hopkins University (JHU) School of Advanced International Studies (SAIS).
Admission directors, who share insights to help applicants strengthen their applications.
Faculty members and students who are making a difference through cutting-edge research, partnerships, and fieldwork.
---
RECENT FP GUIDES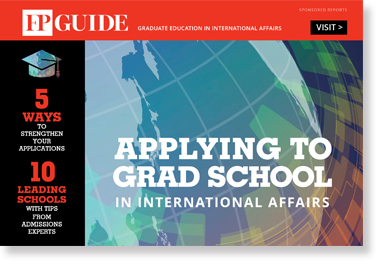 2018 Applying to Grad School
Tells how to strengthen your applications and offers tips from admissions experts at 10 leading schools of international affairs.
2018 FP Guide to Graduate Education
Explores innovative programs available on campus, online, and around the world. It features 12 leading schools of international affairs.
2018 Launching a Career in International Affairs
Opportunities are growing for graduates with analytical skills and the flexibility to adapt to a fast-changing international landscape.
2017 Leaders in Higher Education
Meet inspiring program directors, deans, and professors at leading schools of international affair
s.
Learn how they are preparing…
MORE FP GUIDES 
FP GUIDES are custom-content reports appearing in FP magazine, on ForeignPolicy.com, and on FP GUIDE websites. The FP GUIDES share useful information about programs and services of interest to FP readers and highlight leading organizations in global policy and international affairs education.
For information on how to participate in FP GUIDES, contact Keith Arends, Vice President, Education, Nonprofit and FP Licensing & Analytics Sales, 646-517-0540; Keith.Arends@foreignpolicy.com.
FP GUIDES are prepared by the business department of The FP Group and do not involve the editorial department of FP magazine.
Editor: Nancy Henderson
Associate Editors: Naomi Ayala, Viola Gienger, Katie Lee, Candy Sagon
Copy Editor: Rachel McVearry
Designer: Cinda Debbink, www.dgdesignpartners.com
Vice President, Education, Nonprofit and FP Licensing & Analytics Sales: Keith Arends, Keith.Arends@foreignpolicy.com