2021 Applying to Graduate School in International Affairs
THIS GUIDE IS NO LONGER ACTIVE. For the current FP Guide, click here.
Schools Seek Applicants with Passion and Defined Career Goals




International affairs graduate programs are looking for applicants who have a passion for public service and who can articulate how the program will help them achieve their long-term goals, according to admissions experts at leading schools in this FP Guide.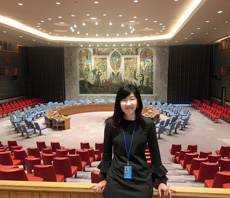 In application essays, candidates should clearly describe their career objectives, including which global issues or regions they want to focus on, and tie them to the specific degrees offered at the targeted school.
"Do your research, start the process early, and be specific. Attend an open house, get the information you need about the program, and think critically about how it applies to your long-term goals," says Travis Major, graduate admissions director at George Mason University's Schar School of Policy and Government.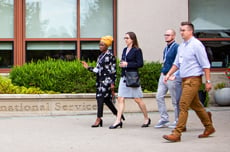 Programs also want to see candidates who demonstrate a commitment to succeed in their careers despite personal or professional challenges or financial barriers, such as those faced by first-generation or lower-income students. One way of demonstrating this commitment is work experience in international affairs—which can range from study abroad to professional experience in the field.
---

George Mason University, Schar School of Policy and Government 
The Best Applicants Have Their Eyes on the Horizon
---
American University, School of International Service
Students Advance Mission to Wage Peace
---

Johns Hopkins University School of Advanced International Studies
Public Service Fellows and Scholars Programs Teach Skills for Tough Challenges
---

Yale University, Jackson Institute for Global Affairs
Flexible Program Puts Students in the Driver's Seat
---

Arizona State University, Thunderbird School of Global Management
Wanted: Applicants with Passion and Varied Perspectives
---

University of Notre Dame, Keough School of Global Affairs
Range of Countries Represented in Program Emphasizing Fieldwork
---

Texas A&M University, Bush School of Government & Public Service
Bush School DC Seeks Students with Passion for Public Service
---

Princeton University, Princeton School of Public and International Affairs
Number 1 Admissions Priority is a Commitment to Public Service
---
Carnegie Mellon University, Institute for Politics and Strategy
Where Real Expertise Meets Real-World Experience
---
University of Toronto, Munk School of Global Affairs & Public Policy
Broad Student Body Brings Curiosity and Engagement to Programs
---
Temple University, Klein College of Media and Communication
Boutique Program Seeks Activists to Harness Media for Social Change
---

Contents

Top Photo: Carnegie Mellon University, Institute for Politics and Strategy
FP GUIDES are prepared by the business department of The FP Group and do not involve the editorial department of FP magazine.
Director of Academic Partnerships: Sherri Greeves, 202-457-7939, sherri.greeves@foreignpolicy.com
Editor: Katherine Hutt Scott
Writers: Regina Bethencourt, Glen Justice, Phillip Meylan, Holly Rosenkrantz
Copy Editor: Rachel McVearry
Designer: Cinda Debbink, dgdesignpartners.com