2021 Charting a Career Path in Global Affairs
THIS GUIDE IS NO LONGER ACTIVE. For the current FP Guide, click here.
HANDS-ON LEARNING experiences are popular offerings these days at international affairs graduate schools because they help satisfy employers, which place higher value on real-world know-how.
Top schools featured in this FP Guide offer a range of experiential learning: study trips, practicum courses, and internships. Another experience is a lab that places students into cross-disciplinary teams working directly for an organization, aiming to tackle an objective or solve a problem. Another is a fellowship that assigns teams of students to draft policy recommendations for officials in the military or diplomatic government agencies. Topics range from building US leadership in Afghanistan to reviving traditional crafts in the Middle East.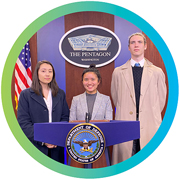 A separate creative curricular approach is requiring that the first course for new students is about race, power, and inequality—to better equip graduates to lead on these issues in an evolving policy landscape.
Other pathways that allow students to chart a fulfilling career path include:
Offering applied training in key areas: research methods, economics, trade law, and financial institutions
Giving students the opportunity to gain deep language and cultural expertise, focusing on critical regions of the world
---
George Mason University, Schar School of Policy and Government
International Commerce and Policy Program Offers Online, In-Person Flexibility
---
Yale University, Jackson Institute for Global Affairs
Students Learn Skills Through Immersion in a Real-World Project
---
Johns Hopkins University, School of Advanced International Studies
A Newly Flexible Program for a Changing World
---

Princeton University, Princeton School of Public and International Affairs
Diversity, Equity, and Inclusion are Central to Public Service
---
Seton Hall University, School of Diplomacy and International Relations
Hands-On Programs Offer Authentic Public Policy Experiences
---
University of Notre Dame, Keough School of Global Affairs
At the Integration Lab, Practical Experience Is a Must
---
Indiana University, Hamilton Lugar School of Global and International Studies
Cultural Fluency a Core Focus of International Affairs Degree
---
Texas A&M University, The Bush School of Government and Public Service
One-Year Program Offers Intensive Study for Experienced Professionals
---
Carnegie Mellon University, Institute for Politics and Strategy
Making Graduate Education—and Real-World Experience—Very Personal
---
Contents
Circle photos: Yale University, Jackson Institute for Global Affairs; Carnegie Mellon University, Institute for Politics and Strategy

FP GUIDES are prepared by the business department of The FP Group and do not involve the editorial department of FP magazine.
Director of Academic Partnerships: Sherri Greeves, 202-457-7939, sherri.greeves@foreignpolicy.com
Editor: Katherine Hutt Scott
Writers: Regina Bethencourt, Glen Justice, Katie Lee, Holly Rosenkrantz
Copy Editor: Rachel McVearry
Designer: Cinda Debbink, dgdesignpartners.com