2021 Charting a Career Path in Global Affairs
THIS GUIDE IS NO LONGER ACTIVE. For the current FP Guide, click here.
One-Year Program Offers Intensive Study for Experienced Professionals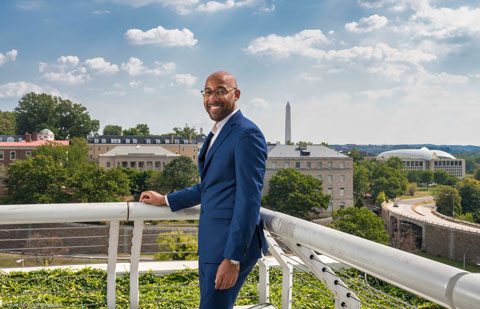 The Master of International Policy (MIP) at The Bush School of Government and Public Service is geared toward professionals who take a one-year pause from the workforce to strengthen their credentials and knowledge base in their field.
"We attract students who can come down to Texas to help repurpose their careers or move up the ladder," says Professor Gregory Gause, head of the Department of International Affairs at Texas A&M University.
Nineteen students have graduated from the program at Texas A&M in College Station, Texas, since the program launched in the 2018–19 academic year. Admission requires at least four years of professional experience in the field of international affairs. A separate Bush School program, the Master of International Affairs (MIA), offers a rigorous two-year degree that is aimed at younger students with less work experience. The MIA includes study abroad, language immersion, and leadership and exchange programs that are not required for MIP students.
Graduates of the MIP program include military officers (both active duty and veterans) and people with business experience or overseas backgrounds who were looking to burnish their professional credentials. The 30-credit, 10-course degree can be completed in 11 months, or through part-time studies over a longer period of time.
To keep the tight program focused on the professional students' career goals, only two courses are required: International Politics in Theory and Practice, and Fundamentals of the Global Economy. Gause says that students have maximum flexibility with the remainder of their courses in one of two tracks offered: National Security and Diplomacy, or International Development and Economic Policy.
---
Grad Brings School's Public Service Credo to New Job

A 2021 Bush School graduate, Aaron Rochow's ultimate goal is to work in the US Foreign Service. For now, he is a newly hired program associate at the International Republican Institute, focused on Southern Africa. Rochow, 24, says that in his job he is benefiting from the "incredible opportunities for skills-building" that he had at the Bush School. "Everything there is based on George H.W. Bush's legacy of giving to something beyond yourself," says Rochow, from Kalamazoo, Michigan. While at the Bush School, he worked as a distance education graduate assistant. "I had access to this amazing faculty, and there are unlimited opportunities to stay connected in the field of international affairs, especially with the new DC campus. It was a huge value."
---
Affordability is a key selling point for the program because Texas A&M is a public land-grant university with generous support from donors; therefore, tuition is relatively low compared with competitor schools. The public subsidy for the degree "dovetails nicely with the public service nature of international service, whether it is in the military or as a civilian working in the community," Gause says.
To enhance the convenience of the MIP program, the Bush School in January 2021 opened a Washington, DC, campus geared to mid-career professionals. Many of the students on this campus attend part-time and may have more years of experience than those in College Station. Gause says, "We are looking forward to the kinds of synergies that will develop between our Texas home and our Washington, DC, teaching site."
Contact
https://bush.tamu.edu/prospective
bushschooladmissions@tamu.edu
979-862-3476