2020 Funding Your Graduate Education in International Affairs
THIS GUIDE IS NO LONGER ACTIVE. For the current FP Guide, click here.

THE CURRENT economic downturn may be a wise time to consider graduate school, to position yourself for your ideal job when the market strengthens and geopolitical priorities and leadership remain critical on many fronts.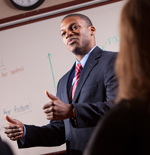 In the Summer 2020 FP Guide: Funding Your Graduate Education, we explore the "mosaic" of financial aid options available for several master's degree programs in international affairs—and the return on investment for graduates.
You will read some inspiring profiles about current students and recent graduates who successfully financed their education, including one who landed a pre-graduation job at Google and another who is starting a career as a US Foreign Service officer.
The schools described here offer financial assistance to make their degrees affordable. Some examples:
One hundred percent of tuition and required fees support, plus a need-based living stipend
Graduate research assistant positions that include tuition support and a stipend
Financial assistance for unpaid internships
Scholarships funded by school partners
Grants to support international research fieldwork and language immersion, to prepare graduates for global careers
Special one-year grants because of the coronavirus pandemic
Contents

Photos: top, Johns Hopkins University School of Advanced International Studies; inset, Texas A&M University, The Bush School of Government and Public Service
FP GUIDES are prepared by the business department of The FP Group and do not involve the editorial department of FP magazine.
Director of Academic Partnerships: Sherri Greeves, 202-457-7939, sherri.greeves@foreignpolicy.com
Editor: Katherine Hutt Scott
Writers: Brooks Boliek, Viola Gienger, Katie Lee, Holly Rosenkrantz
Copy Editor: Rachel McVearry
Designer: Cinda Debbink, dgdesignpartners.com