2020 Funding Your Graduate Education in International Affairs
THIS GUIDE IS NO LONGER ACTIVE. For the current FP Guide, click here.
Like Its Namesake, School Promotes Public Service

The Bush School of Government and Public Service offers an avenue to an affordable, world-class advanced degree that encourages graduates to follow the vision of public service embodied by its namesake, President George H.W. Bush.
"We are very much committed to the idea of public and government service for our graduates," says Dr. F. Gregory Gause III, head of the Bush School's Department of International Affairs.
To that end, the school offers financial support that make its competitive curriculum, small class size, and relatively low-cost tuition even more attractive.
"Every full-time Master of International Affairs (MIA) student receives some amount of scholarship," Gause says. "Additionally, those who enroll from out-of-state pay Texas rates, because we issue nonresident waivers to these competitive students."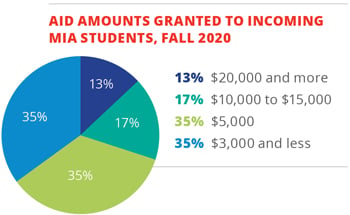 As a premier public institution, Texas A&M University also offers affordable rates. Current annual tuition costs are $13,200 for residents—which all students qualify for with the nonresident waivers—and living expenses are an additional $21,000. The MIA provides scholarships that range from $1,000 to more than $30,000 per year, with an average of $5,000.
Second-year Bush School students can either renew their scholarship or apply for a graduate assistant position. Graduate assistants earn partial tuition support and an hourly wage, working 20 hours per week for faculty or staff (totaling more than $14,000 annually).
These financial opportunities help students participate in their education without accumulating excessive debt. And that is critical for students looking to pursue careers in the public sector.
---

Generous Scholarship Support Lowers Degree Costs
With an eye toward a career in international economic policy and finance, Steven Weirich found his sweet spot at the Bush School. "The Bush School was the best mix of everything I wanted in a graduate program," he says. "I wanted a program with a high-quality faculty and specialization in my particular subject area, but it had to be affordable as well."


)))

A Bush School scholarship and, later, a graduate assistant position helped Weirich, of Olive Branch, MS, cover much of the cost of his MIA degree. He graduated this year and now works as an international tax consultant for a Dallas-based company. "My experience at the Bush School was a positive one," Weirich says. "It was exactly what I was looking for."
---
Contact
https://bush.tamu.edu/prospective
bushschooladmissions@tamu.edu
979-862-3476