Launching a Career in International Affairs
THIS GUIDE IS NO LONGER ACTIVE. For the current FP Guide, click here.
Diplomacy. International Development. Peacekeeping. New York. Washington, D.C. London. Brussels. Those are some of the longstanding pursuits and places for careers in international affairs.
Now, opportunities are also growing in a wide range of employment sectors and locations that are not the most obvious choices for a global career, from Kenya to Colorado, and from renewable energy to mobile health technology.
Where and how will the next international affairs professionals find their way in today's challenging and exciting employment markets?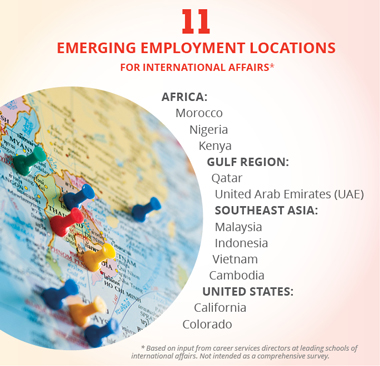 In a period marked by widespread uncertainties, how can newly minted international affairs graduates start their career on a strong foot? We asked career services directors at leading graduate schools of international affairs where the opportunities will be and how students are preparing to reach their goals.
Jean-Amiel Jourdan, director of Global Careers at the Johns Hopkins University School of Advanced International Studies (SAIS), compares launching a career in global affairs with sailing a boat: "On a sunny day, you can expect to go farther and faster. But when a storm is approaching, it's time to draw on your resources and sharpen your skills." Now, the prospect of budget cuts in the public sector and new visa restrictions limiting employment options for international students are beginning to cloud the horizon. "You start to see how deep your career network is and how deep your connections are," says Jourdan.
Alumni play an especially important role in career networking at The Fletcher School of Law and Diplomacy at Tufts University. In fact, alumni involvement has helped to more than double the number of Career Services job postings this year.
Intelligence and security expertise are clearly in high demand, but where else are the most promising prospects? For one thing, Jourdan points to demand for highly trained international affairs professionals in parts of Africa, Southeast Asia, and the Gulf.
---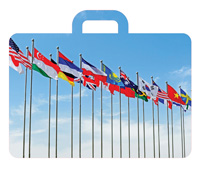 6 Key Job Growth Areas in International Affairs*
Transnational Security




Sustainable Development




Global Intelligence




Global Health Policy




Human Migration and Human Trafficking




Program Design and Evaluation
* Based on input from career services directors at leading schools of international affairs. Not intended as a comprehensive survey.
---
Erica Mason, associate director of New York University's Wasserman Center for Career Development at the NYU School of Professional Studies, sees growing opportunities in fields such as transnational security and corporate social responsibility.
David Robertson, director of career services at the University of California San Diego School of Global Policy and Strategy, expects continued strong demand in the technology sector for expertise in data analysis, business, economics, and global policy. He also sees opportunities in renewable energy and in state and local government, especially in the West, and particularly in California.
But even in areas facing cutbacks, federal government employment might not be out of the question. "We see people really doubling down to get coveted spots in the public sector and also casting their nets a little farther," Anne Steen, director of the Graduate Career Center at Georgetown University's Walsh School of Foreign Service. One strategy, she says, might be to start out in a domestically oriented position and gain experience that could eventually lead to more globally oriented opportunities.
---
Contents
Photos at top: UC San Diego School of Global Policy and Strategy (students doing internships abroad); Johns Hopkins SAIS (career fair)