2022 Applying to Graduate School in International Affairs
THIS GUIDE IS NO LONGER ACTIVE. For the current FP Guide, click here.
---
A Strong Graduate School Application Starts with Intentionality
Applying to an international affairs graduate program is, in some ways, an exercise in self-awareness. Admissions committees are trying to understand the whole person, from strengths and skills to what the desired next stage of the applicant's career is and how the particular school and program will help them achieve this goal. Strong applications, including accompanying recommendation letters, will dig in deep and articulate this well.
"Our most compelling candidates know our commitment to service, and they're intentional in telling a meaningful story about their interests," says Jia Jiang, senior director of graduate enrollment management at American University. "It's the mindset they bring to the application process that makes them different."
As graduate schools take a more tailored approach to education, they are seeking students who are eager and able to leverage their unique offerings beyond the curriculum. That might include the program's location, the opportunities it provides for interdisciplinary collaboration, or its distinguished faculty, invited lecturers, and relationships with agencies and organizations.
In this special FP Guide, university leaders discuss degree program differentiators and offer insight into admissions considerations.
---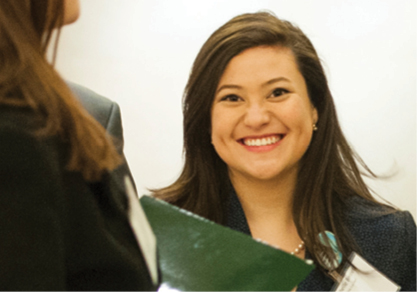 George Mason University, Schar School of Policy and Government Holistic Admissions Approach Contributes to Diversity in the Classroom
---
Johns Hopkins University School of Advanced International Studies Renowned Faculty and New Curriculum Build Global Mindset and Expertise
---
Yale University, Yale Jackson School of Global Affairs Yale Prepares to Admit Inaugural Class for Newly Formed School
---

Arizona State University, Thunderbird School of Global Management Wanted: Applicants With Passion and Varied Perspectives
---
Rice University, School of Social Sciences A Personalized Approach With Real-World Experience
---
University of Notre Dame, Keough School of Global Affairs Students Empowered in Career Preparation Through Personal Advising and Fellowships
---

American University, School of International Service 'Waging Peace' Since 1957


---
Indiana University, Hamilton Lugar School of Global and International Studies Strategic Languages, Social Awareness Combine in Training of New Global Leaders
---
Texas A&M University, Bush School of Government & Public Service Studying Policy at the Epicenter of U.S. Government
---
University of Miami, Master of Arts in International Administration Equipping Students With the Skills and Experience to Tackle Large-Scale Crises
---
Princeton University, Princeton School of Public and International Affairs Admissions Prioritizes a Demonstrated Commitment to Public Service
---

The Fletcher School at Tufts University Customizable Degrees Address Global Challenges and Students' Career Aspirations
---
University of Toronto, Munk School of Global Affairs & Public Policy Broad Student Body Brings Curiosity and Engagement to Programs
---
Florida International University, Steven J. Green School of International & Public Affairs Green School Degree Programs Allow Students to Specialize in Global Hotspots
---

Carnegie Mellon University, Institute for Politics and Strategy Where Real Expertise Meets Real-World Experience
---
Contents

FP GUIDES are prepared by the business department of The FP Group and do not involve the editorial department of FP magazine.
Director of Academic Partnerships: Sherri Greeves, sherri.greeves@foreignpolicy.com
Editor: Tara Shubbuck
Writers: Greg Fitzpatrick, Veronica Gorodetskaya, Glen Justice, Katie Lee, Holly Rosenkrantz
Copy Editor: Rachel McVearry
Designer: Cinda Debbink