2022 Applying to Graduate School in International Affairs
THIS GUIDE IS NO LONGER ACTIVE. For the current FP Guide, click here.
Customizable Degrees Address Global Challenges and Students' Career Aspirations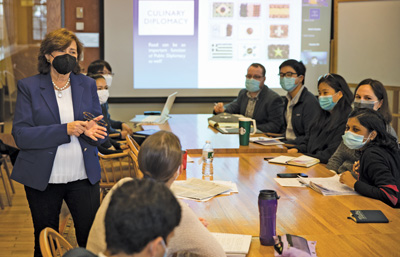 The interdisciplinary programs at The Fletcher School at Tufts University are a major draw for applicants considering careers in global affairs. The highly customizable degrees enable students to forge their own unique paths across disciplines and sectors with an extensive selection of classes that span an array of interest areas, including business, economics and development, climate and sustainability, diplomacy, gender, cybersecurity and technology, law and governance, and security and risk.
"There are so many ways to curate your degree and not only at Fletcher," says Yaritza Peña, associate director at the Office of Admissions and Financial Aid. "Students can also cross-register at Harvard and at all the Tufts graduate schools to build a one- or two-year degree program. From study abroad to a dual degree, it's incredibly flexible."
The school looks for applicants who demonstrate a strong and clear narrative about their goals, as well as the school's role in them. "We want applicants to connect the dots and show us how the school and its community will get them to the places they want to be," she says.
While prior professional experience is encouraged in most programs, the admissions committee is mindful of the pandemic's impact on applicants' work history. "We understand that people's work experiences look different now, and we're having these conversations when considering applicants," explains Peña.
Recent graduates, or those in their senior year, also have the option of applying to Fletcher via the Map Your Future Pathway program. Once accepted, it allows students up to two years to explore possible career options and areas of focus, as well as gain relevant work experience before returning to the classroom to pursue an MA in Law and Diplomacy or Master of International Business.
---

PROGRAM HIGHLIGHT | Redefining the Study and Practice of Global Affairs for a Fast-Changing World
The world is hotter, flatter, faster, and more interconnected than ever before. Building upon its almost 90-year history of innovating the teaching and practice of global affairs, Fletcher continues to adapt its offerings to equip its graduates to lead and solve problems at this time of unprecedented complexity.
Beginning in 2023, Fletcher's two-year residential Master of International Business will focus on sustainability, and will offer an optional STEM-designated Quantitative Methods track.
Additionally, Fletcher's Global Master of Arts Program, a hybrid-learning executive master of leadership program, has been adapted to meet the evolving needs of mid-career global professionals and their employers.
Finally, Fletcher introduces this fall several faculty who will add new dimensions of leadership to its diplomacy platform, bringing with them programming and offerings in the fields of small states, cultural, and public diplomacy, as well as diplomatic history.
---


Graduate Degree Program Options
• MA in Law and Diplomacy (MALD)
• Master in Global Affairs (MGA)
• Master of International Business (MIB)
• Master of Global Business Administration (GBA)
• Master of Arts (MA)
• Master of Laws in International Law (LLM)
• Global Master of Arts Program (GMAP)
• MS in Cybersecurity and Public Policy (CSPP)
• MA in Humanitarian Affairs (MAHA)
• MA in Transatlantic Affairs (MATA)
• PhD in International Relations
Deadlines for Fall 2023
Early Application and Financial Aid/Scholarships: November 10, 2022
Regular Application and Financial Aid/Scholarships: January 10, 2023
Standardized Exam Scores: Standardized test scores are optional.
Recommendation Letters: Two recommendations are required, with a third optional. One academic and one professional reference is recommended, though candidates should choose recommenders who know them well and can speak to their qualifications in some detail.
Application Checklist: https://fletcher.tufts.edu/admissions/how-apply