2022 Applying to Graduate School in International Affairs
THIS GUIDE IS NO LONGER ACTIVE. For the current FP Guide, click here.
Studying Policy at the Epicenter of U.S. Government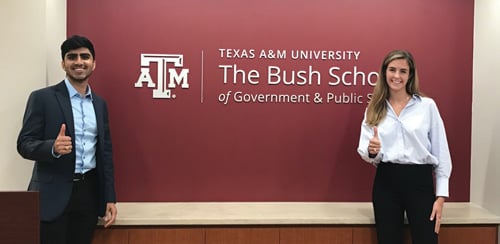 Students studying at the DC Teaching Site of Texas A&M's Bush School of Government & Public Service get more than just classroom experience. The school's focus on national security, defense, and intelligence policy making is greatly enhanced by its location: literally blocks from the institutions where that work is carried out every day.
"When you study that here in Washington, you can go up to Capitol Hill and meet people who are doing it," says Yuval Weber, a research assistant professor at the Bush School DC. "You can go to a defense contractor if you want to have meetings. That's really the value of graduate study in Washington."
The Bush School DC allows students to complete a Master of International Policy degree (MIP), for those with at least four years of experience in the workforce, or a Master of National Security and Intelligence degree (MNSI), for early-career students. Either can be a strong match for applicants who have practical experience, a desire to specialize, and an interest in accelerating their career.
Weber says that many students at the Bush School DC are already passionate about a particular subject area and that their interests vary widely, from arms control to the future of Russia. But there is one commonality among them. "Every single person here, and I say this unironically, is really into the policy process," Weber says. "On some basic level, everyone here is a politics and government nerd."
MNSI students are required to study a language and participate in a capstone project, which pairs students with government agencies or other organizations to dive into an issue and present solutions. "Students get to learn how the government actually thinks about its problems, and then work through it," Weber says. He adds: "It's also a semester-long job interview."
---

PROFESSOR SPOTLIGHT | Expanding Student Understanding of the Transatlantic Relationship
Roughly a year before Russia invaded Ukraine, Yuval Weber began to hear about troop movements that foreshadowed the war. As a professor studying international security, political economy and the relationship between Russia and Europe, he was in a perfect position to explain the conflict to students and add valuable context.
"One of the things that I'm starting here at the Bush School is both classes and programming on the transatlantic relationship," he says.
Weber has taught students how to understand Russia's political culture and security interests. He's now working on a course that addresses strategy, risk, and foresight in international affairs. "It's about how to understand what are long-term issues and what are emergencies, and how policy makers effectively deal with both," he explains.
---


Graduate Degree Program Options
• Master of International Policy (MIP)
• Master of National Security and Intelligence (MNSI)
Deadlines for Fall 2023
Priority Application: February 1, 2023
After the priority deadlines, applications will be reviewed on a rolling basis until the class is filled.
Financial Aid/Scholarships: February 1, 2023
Standardized Exam Scores: GRE is not required.
Recommendation Letters: Mid-career MIP students submit letters of recommendation from employers, mentors, and colleagues. MNSI students are encouraged to submit letters of recommendation from faculty members, internship sponsors, and employers.
Application Checklist: http://bush.tamu.edu/dc