2022 Applying to Graduate School in International Affairs
THIS GUIDE IS NO LONGER ACTIVE. For the current FP Guide, click here.
Broad Student Body Brings Curiosity and Engagement to Programs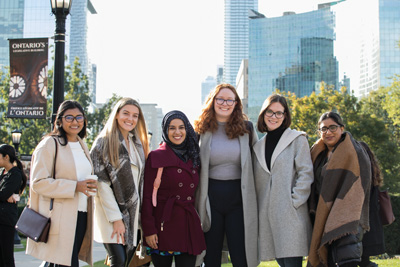 Based at Canada's top-ranked university, the University of Toronto's Munk School of Global Affairs & Public Policy offers students access to expert faculty, a cosmopolitan city, and a wide range of diverse perspectives.
Prospective students can choose between the Master of Public Policy (MPP) program and the Master of Global Affairs (MGA) program, or apply to earn a dual degree from the Munk School and the London School of Economics, Sciences Po in Paris, or the Hertie School in Berlin.
Through a summer internship, a "January semester" dedicated to professional development, and Student Leadership Initiatives (SLI), students build their network and gain valuable work experience. The Munk School's fellows mentorship program offers one-on-one mentoring with diplomats, politicians, and senior leaders from government, nonprofits, and the private sector.
At the Munk School, students discuss the pressing issues that shape our world, including cybersecurity, innovation, the changing world order, and the future of democracy. Whether they're asking questions at an interactive event with Ukraine President Volodymyr Zelenskyy, interviewing policy makers on the student-run "Beyond the Headlines" podcast, or discussing digital surveillance with Citizen Lab founder Ron Deibert, Munk School students have a front-row seat to the conversations that shape our world.
"At the Munk School, we are looking for students who are creative, who think differently, are deeply engaged with the world and want to have an impact on it," says Kristen Ligers, director of programs at the Munk School. "Our programs are designed to equip students with the tools to make real-world decisions and become leaders in their chosen field."
---

PROGRAM HIGHLIGHT | Students Gain Practical Experience During Global Internships
When Munk School students break for the summer after their first year, the learning goes global. Even during the worst of the coronavirus pandemic in 2020, the school had a 100 percent placement rate in summer internships, which are for-credit and required.
A dedicated staff member helps with applications to multilateral organizations, think tanks, private sector companies, nonprofits, and government agencies. Some recent placements have been with government agencies, United Nations agencies, and the professional services company KPMG. Locations are varied, too. The International Organization for Migration, for instance, placed students in Geneva and Cairo, among other cities.
---


Graduate Degree Program Options
• Master of Global Affairs (MGA)
• Master of Public Policy (MPP)
The Munk School also offers dual and cooperative degree programs with partner institutions.
Deadlines for Fall 2023
Priority Application: January 25, 2023
Final Application: For MPP, January 25, 2023. For MGA, April 1, 2023
Financial Aid/Scholarships: January 25, 2023
Standardized Exam Scores: None are required for MGA applicants. MPP students who received their undergraduate degree outside of Canada must submit GRE scores.
Recommendation Letters: Two are required. They are often most effective coming from past professors who can speak to a student's strengths and passion for the subject.
Application Checklist:
MGA: https://munkschool.utoronto.ca/mga/admissions
MPP: https://munkschool.utoronto.ca/munk-programs/masters-programs/masters-of-public-policy