2022 Applying to Graduate School in International Affairs
THIS GUIDE IS NO LONGER ACTIVE. For the current FP Guide, click here.
Holistic Admissions Approach Contributes to Diversity in the Classroom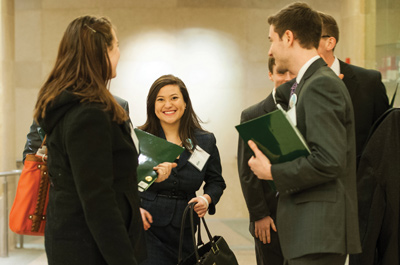 The student population at George Mason University's Schar School of Policy and Government is extraordinarily diverse across work experience, education, age, and interests. This is a result of the school's holistic approach to reviewing potential students, which includes prioritizing individuality in a well-articulated goals statement and through strong recommendation letters.
"It's okay to come into our international affairs and public policy programs without prior relevant work or educational experience," explains Kristina Bonfiglio, director of graduate recruitment and admissions at Schar School. "Show us who you are and what you bring to the table, because we value that diversity in the classroom."
Her advice to prospective candidates: Research the school's programs and spend time demonstrating how your background and future goals align with a specific program. Bonfiglio also suggests sharing your goals with those who write your recommendation letters. "Talk to them about the schools or programs you're applying to and why it's of interest so that this person can articulate that, tangential to your experience with them and their recommendation, to help round out your profile."
The Master of Public Policy (MPP) is the school's broadest degree program in terms of preparing graduates for a wide range of policy areas. Applicants, from recent college graduates to mid-career professionals, are choosing the MPP for its customizable curriculum, which meets individual goals and interests; access to leading experts in their field; and hybrid flexible classes.
---

PROGRAM HIGHLIGHT | Workforce Readiness Starts on Day One
The Schar School's Master of Public Policy is a career-focused degree. Students may attend school full-time or balance work and school, and they are supported and prepared for the workforce ahead through a variety of highly individualized career and professional development services.
The dedicated career-advising staff assists students with résumé-writing, networking events, internship and career opportunities, and skill-building career-development workshops and webinars. Likewise, students benefit from the school's long list of established relationships with major employers in the Washington, DC, area, including government agencies.
A 2020/2021 survey of Master of Public Policy graduates shows a median salary of $97,000;
90 percent had employment related to their career goals; and 86 percent of all program graduates had confirmed post-graduate plans, such as a job or further education.
---

Master's Degree Program Options
• Biodefense, MS
• Global Commerce and Policy, MA
• International Security, MA
• Organization Development & Knowledge Management, MS
• Political Science, MA
• Public Administration, MPA
• Public Policy, MPP
Graduate Certificate Programs
• Biodefense
• Emergency Management and Homeland Security
• Global Economic Policy
• Global Health and Security
• Illicit Trade Analysis
• National Security and Public Policy
• Nonprofit Management
• Public Management
• Science, Technology, and Security
• Strategic Trade
• Terrorism and Homeland Security
Deadlines for Fall 2023
Application: Priority, February 1, 2023; regular, May 1, 2023
Financial Aid/Scholarships: February 1, 2023, for full consideration
Standardized Exam Scores: A limited number of the school's programs require the GRE, but these scores are just one part of the overall application and do not by themselves dictate an admissions decision one way or the other.
Recommendation Letters: Two are required for degree programs, from professors or professional colleagues who are knowledgeable about the applicant's accomplishments and capabilities.
Application Checklist: https://schar.gmu.edu/admissions/how-apply