2021 In-Demand Careers in International Affairs
THIS GUIDE IS NO LONGER ACTIVE. For the current FP Guide, click here.
New Washington, DC, Teaching Site Supports Mission of Public Service

A job in the federal government is the choice of more than 40 percent of graduates of the Bush School of Government & Public Service who earn a Master of International Affairs degree.
So, it made sense when the school opened a Washington, DC, teaching site in January, renovating 50,000 square feet of a building two blocks from the White House.
"We are literally and figuratively trying to be in the middle of government and public service," says Jay Silveria, executive director of the Bush School's new teaching site. "If someone wants to make a difference, wants to have an impact, this is a path to make a difference."
The Bush School was founded on Texas A&M University's College Station, Texas, campus by the late President George H.W. Bush in 1997, shortly after he left office. Texas A&M also hosts the George Bush Presidential Library and the George Bush Foundation.
In its almost 25 years of operation, the Bush School's connection to the former president and his legacy has been a major attraction for students, Silveria says. For example, Jeb Bush, the president's son and a former governor of Florida, taught a 10-day course on the role of governors.
Silveria, a retired Air Force lieutenant general and former superintendent of the Air Force Academy, says the Washington, DC, teaching site intends to invite many voices from government and industry to speak about international policy. Even before the building renovations were finished, the new site hosted Poland's ambassador to the United States.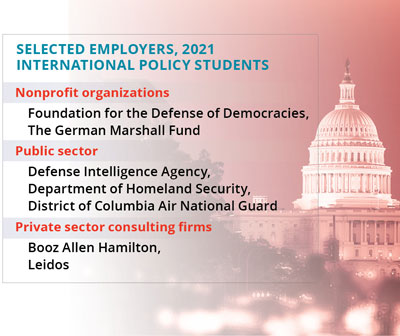 "We want to be a place where we have those discussions, in the right forum," Silveria says. "We're not about an agenda."
The Washington, DC, teaching site began with a dozen students, all mid-career professionals studying to earn a Master of International Policy degree, which can take just one year if students attend full-time, although most take classes on a part-time basis. Mid-career professionals are a key market for the school, which is appealing to professionals because of its emphasis on public service and its affordable tuition.
Many Bush School students look to a graduate degree as a gateway to their next position or as a way to switch industries. Silveria says the academic offerings for the Washington, DC, location will expand to include degrees in national security and intelligence, two areas with a great need for well-educated professionals. 
"The job market continues to grow and to build," Silveria says. "But people are looking for quality. People who stretch themselves with a degree will make themselves much more qualified."
Contact
bush.tamu.edu
BushSchoolDC@tamu.edu  
202-773-0022