2020 Applying to Graduate School in International Affairs
THIS GUIDE IS NO LONGER ACTIVE. For the current FP Guide, click here.
Searching for Excellence, Tenacity, and a Sincere Commitment to Public Service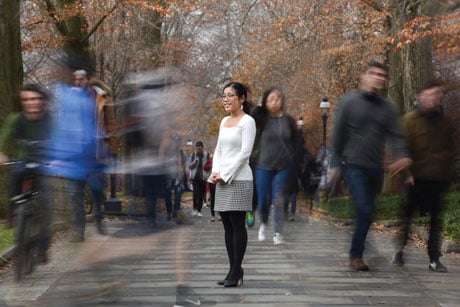 Princeton University's School of Public and International Affairs (SPIA) cultivates graduates who will construct a more inclusive and equitable world. When building its student community, the school looks for excellence, diversity, and a dedication to public service.
"We are an inclusive and supportive community at Princeton, bound together by our commitment to public service—it's the single biggest thing we look for in our admissions process," says SPIA Director of Graduate Admissions Steven F. Petric. "We know that the best applicants do not all come from the same place. We care about the composition of our community."
This commitment to public service should not only serve as the impetus for career aspirations, but it should also be evidenced through prior full-time professional and volunteer work.
"We look for individuals working on behalf of their communities," Petric says.
SPIA takes a holistic approach to admissions that considers multiple indicators of success, beyond those measured on a transcript. Those markers include tenacity and an unflinching resolve to create solutions.
The school keeps its degree offerings simple: a two-year Master in Public Affairs (MPA), a one-year mid-career Master in Public Policy (MPP), and a five-year PhD in Public Affairs. The master's curriculum offers four fields of concentration and three optional certificate programs.
Petric notes the rigor of the school's programs in preparing students for international and domestic policy careers.
"We are keen on people who have persisted and succeeded in their careers in spite of personal challenges, professional setbacks, or financial barriers," Petric says. "So, it's important to follow your passions, because by doing work you love, you will excel."
---



Automatic Full Funding
All candidates admitted to SPIA receive full financial support that covers the complete cost of tuition and student health insurance. Students also are eligible for a need-based living stipend. This funding comes from Princeton in the form of grants combined with any external funding. As a result, the school has no separate deadline for scholarships or financial aid
.

)))
"We have a proud history of fully funding our students, a facet we think is democratizing," Petric says. "Princeton invests in you."
)))
To that end, Petric has a pitch that sounds like common sense, but also is a challenge to potential candidates to consider Princeton for graduate school: "If you do not apply, we cannot admit you."
---

Graduate Degree Program Options
• Master in Public Affairs
• Master in Public Policy (for mid-career professionals)
• PhD in Public Affairs
Deadlines for Fall 2021
Application: December 1, 2020
Financial Aid/Scholarships: Princeton has one application deadline and one admissions cycle. All admitted students receive full financial support for tuition.
Standardized Exam Scores: The GRE is required for the MPA. The MPP and PhD programs are test-optional.
Recommendation Letters: Three are required.
Application Checklist: https://spia.princeton.edu/graduate-admissions/master-public-affairs/application