2020 Applying to Graduate School in International Affairs
THIS GUIDE IS NO LONGER ACTIVE. For the current FP Guide, click here.
Mid-Career Program Delivers Diverse Global Expertise and Academic Rigor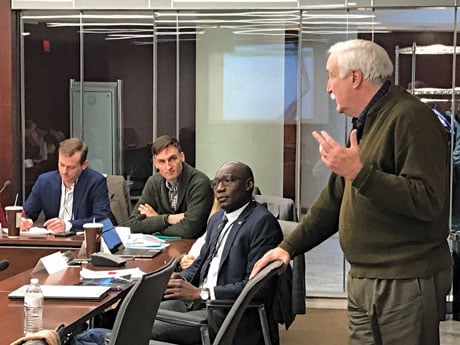 At Syracuse University's Maxwell School of Citizenship and Public Affairs, global professionals working across sectors converge in an educational environment rich in real-world experience.
The Executive Master of International Relations (EMIR) program brings together mid-career professionals from diverse fields, including foreign policy, diplomacy, trade, the environment, education, health, security, and cyber.
Committed to the public good and to tackling complex challenges, EMIR students gain insights from their classmates while establishing a network of like-minded changemakers, including 33,000 Maxwell School alumni around the world.
"While Maxwell offers a range of highly regarded professional master's degrees, the EMIR is specifically tailored for the experienced professional who wants to advance to a higher level of executive leadership or transition into the international arena," says Cory Meyers, director of enrollment management.
The EMIR degree program offers increased accessibility through an efficiently paced 30-credit (10-course) curriculum, scheduling flexibility, and options to complete courses either in Syracuse, New York, or Washington, DC. The school has a partnership with the Center for Strategic and International Studies (CSIS), in which Washington, DC, professionals take courses with Maxwell faculty and CSIS scholars in the evening and continue working during the day.
Mark Jacobson, a foreign policy scholar who also has extensive work experience in federal government and international organizations, leads the EMIR in Washington, DC, program. "Our students not only bolster their academic grounding, but also examine cutting-edge issues by working with key policy practitioners in an environment where what led the news today may have been covered in our classroom the week before," he says.
---



Work Experience is Essential
While the admission committee considers a candidate's entire profile, including past academic performance, relevant work experience is by far the most important factor in admission decisions for the EMIR program. It requires a minimum of seven years of experience. Ideal applicants have held managerial positions in the public or nonprofit sectors, or have done related public policy work
.

)))
"The personal statement also is an important part of the application for admission," Meyers says. "Applicants should take care to clearly demonstrate their understanding of the international relations field and how their career goals are aligned with the EMIR program."
---

Graduate Degree Program Options
• Executive Master of International Relations (EMIR)
Deadlines for 2021
Application and Financial Aid/Scholarships: For spring 2021 entry, November 1, 2020; for fall 2021 entry, July 1, 2021
Standardized Exam Scores: Standardized tests such as the GRE are not required for the EMIR. An English proficiency exam is required for international applicants.
Recommendation Letters: Two letters of recommendation are required, preferably from current or recent work supervisors.
Application Checklist: https://www.maxwell.syr.edu/paia/admissions/empa-emir