2016 Graduate Education
THIS GUIDE IS NO LONGER ACTIVE. For the current FP Guide, click here.
The University of Texas at Austin, Lyndon B. Johnson (LBJ) School of Public Affairs
The LBJ School of Public Affairs at The University of Texas at Austin has a robust global purpose. Working to drive progress and well-being in the world, LBJ students learn how to engage in policymaking by stretching intellectual boundaries. In a world that is changing at a pace that demands agility, they learn how to apply new knowledge and expertise to the next generation of issues before they fully emerge.
The Master of Global Policy Studies (MGPS) at the highly ranked LBJ School offers a flexible, rigorous curriculum designed for students who have the passion, drive, and imagination to confront a global environment that is fraught with complex problems. While developing key analytical and professional skills, students have multiple opportunities to engage in policy-relevant research and cultivate career contacts.
With a faculty-student ratio of one to seven, the Global Policy Studies program promotes a deeply ingrained culture of close interaction between students and faculty members. "Students and faculty value the LBJ School's 'open door and open Rolodex' environment," says Catherine Weaver, associate professor of public affairs.
Students in the two-year MGPS program choose among seven specializations and work with a faculty member on a real-world policy research project for an external client. Project areas vary widely, from security in the Strait of Hormuz to climate change policies in China to food security in Africa. Students also complete a required summer internship, usually abroad, in Washington, D.C., or in New York City. Many also take advantage of the numerous opportunities for research assistant positions with the school's world-renowned faculty.
Students may participate in cutting-edge research, policy engagement, and fieldwork around the world through the school's partnerships with University of Texas centers and programs, including the Robert S. Strauss Center for International Security and Law, the William P. Clements Jr. Center for National Security, and Innovations for Peace and Development.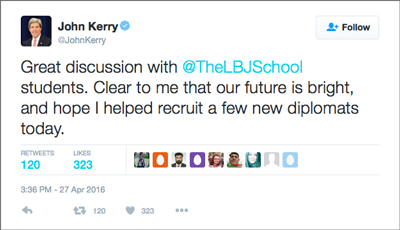 Some pursue a three-year dual degree with one of nine other master's programs at the University of Texas (MBA; Asian Studies; Middle Eastern Studies; Russian, East European, and Eurasian Studies; Latin American Studies; the School of Information; Public Health; Energy & Earth Resources; and Journalism), or the four-year MGPS and Law (JD) program.
MGPS is also one of the most affordable graduate programs in the country. Annual tuition and fees for the MGPS program are in the $22,000 range for out-of-state and international students and about $11,000 for in-state students. More than a third of incoming students receive merit scholarship offers; another third receive graduate teaching or research assistantships with tuition support; and others receive financial aid or work part-time. "Many of our students graduate with little or no debt," says Weaver.
Furthermore, the city of Austin—a popular haven for students who enjoy outdoor activities, a vibrant music and arts culture, a high-tech environment, an innovative food culture, and sunny weather—enjoys a cost of living that is 45 percent lower than in New York City.
The LBJ School also offers an innovative 18-month program at its Washington Center. Students spend their first year in Austin, followed by six months in D.C., where they take courses with leading policymakers and work as advanced apprentices at leading Washington-based organizations. They graduate with either an MGPS or Master of Public Affairs degree. The Washington Center is also available to all LBJ students for assistance with professional networking and job searches.