2019 Graduate Education | International Affairs
THIS GUIDE IS NO LONGER ACTIVE. For the current FP Guide, click here.
New York University School of Professional Studies, Center for Global Affairs
In an era when the international community is grappling with disinformation, high-tech espionage, and the use of social media for terrorist recruitment, the NYU School of Professional Studies (NYUSPS) Center for Global Affairs (CGA) is launching a degree program aimed at preparing students for that challenge: the MS in Global Security, Conflict, and Cybercrime.
Like the center's longstanding MS in Global Affairs, the new degree can be pursued on a full-time or part-time basis, providing flexibility for professionals in intelligence, domestic security, or other sectors who want to be able to study even as they continue working. The degree offers a core curriculum of six courses:
Cyber Criminology
Cyber Law and Cyber Liberties
National and International Cybercrime Investigation
Political Cybercrime
International Critical Infrastructure Protection
Cybersecurity
Students also choose five electives from among 11 offerings as varied as social media and terrorism; the internet of things; and cyberfeminism, gender roles, and gendered perspectives on cyberspace.
"The MS in Global Security, Conflict, and Cybercrime program is not looking at the technology exclusively; it really is a social science approach," says Vera Jelinek, divisional dean. "It's basically designed for students who are in, or planning to enter, either the private sector or the public sector, because security issues affect everybody and will be with us for years to come."
The new degree can be completed in two years, or even within 18 months, Jelinek says.
CGA alumni work all over the world, in institutions that have included UNICEF, the U.S. Department of State, NATO, the Soufan Group, Booz Allen Hamilton, Amnesty International, Human Rights Watch, Pfizer, J.P. Morgan, the government of South Africa, a South Korean consulate, the U.S. Navy, the U.S. Department of Homeland Security, and the Council on Foreign Relations, to name just a few.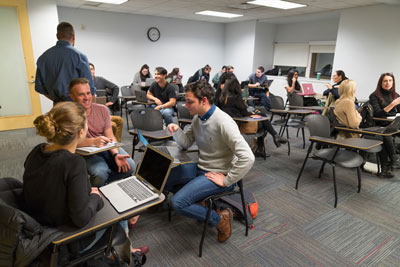 "Our alumni are a very committed group," Jelinek says. "When we have a networking event, a large number of alumni come back to mentor current students. And when positions open up within their workplaces, we are the first to hear about it, because they're dedicated to CGA and because our students have done so well in the positions they have gone into."
When Jelinek launched the master's program in 2004, the aim was to go beyond the traditional focus on diplomacy and economics and look at issues from a variety of perspectives, she says.
The MS in Global Affairs now offers eight concentrations:
Environment/Energy Policy
Global Gender Studies
Human Rights and International Law
International Development and Humanitarian Assistance
Global Economy
International Relations/Global Futures
Peacebuilding
Transnational Security
"It's not a political science program; it's not just training in diplomacy; and it's not just training for government," Jelinek says. "We provide training for every sector, by giving each student an understanding of the multifaceted society that we live in."
Visit the Request Info page to receive more information.