2019 Graduate Education | International Affairs
THIS GUIDE IS NO LONGER ACTIVE. For the current FP Guide, click here.
UC San Diego School of Global Policy and Strategy
Students at UC San Diego's School of Global Policy and Strategy (GPS) develop cutting-edge analytic tools with real-world applications while preparing for key roles in global leadership. Students also benefit from the university's prime West Coast location and its renowned programs in science and technology.
UC San Diego is located near the U.S.–Mexico border, and GPS is a go-to center for studying cross-border relations. UC San Diego also has the largest concentration of China scholars found at any U.S. university, according to Wendy Hunter Barker, assistant dean for academic programs and marketing. But GPS is more than just a school of international affairs, she notes. Its Master of Public Policy (MPP) program, introduced four years ago, makes the school a leading a place to study policymaking as well.
Traditionally, a majority of GPS graduate students have pursued the Master of International Affairs (MIA) degree, but the MPP program attracts growing enrollment—currently about 35 percent of graduate students.
"One of the reasons we brought the MPP on board is because we want to look at the policy implications of the international issues that are being studied at GPS," says Barker. "We want students to look at the issues holistically, consider the policy implications, and think about what the issues mean in the real world."
In a new program to start this fall, GPS is partnering with the Paris School of International Affairs (Sciences Po); the Graduate School of International Studies at Korea University in Seoul; and HEC Montréal—Canada's largest management school—to train the next generation of economic diplomats. Students will begin with a course on economic diplomacy and receive training that prepares them for a summer internship at the Organization for Economic Cooperation and Development (OECD).
Economic diplomacy focuses on the bargaining and decision-making of international economic relations. "We hope to train a new generation of economic diplomats who can better understand the needs of businesses to achieve diplomatic objectives," says Renee Bowen, associate professor of economics at GPS, who will head the school's new Center for Commerce and Diplomacy.
GPS is also home to a variety of established research centers, including the Center for U.S.–Mexican Studies, a go-to source for academic research on Mexico and U.S.–Mexico policies, from trade agreements to immigration.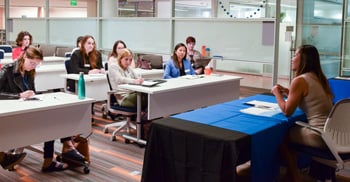 For students who wish to delve deeply into Chinese domestic policy, foreign policy, and economic affairs, GPS offers the Master of Chinese Economic and Political Affairs program (MCEPA). Launched in 2017, the program is associated with UC San Diego's 21st Century China Center, one of the nation's leading programs in modern Chinese economic and political affairs. Students must be proficient in Chinese, and each student works closely with a faculty member on an area of research.
In addition to its variety of leading programs and collaborations, GPS stands out for its proximity to the Pacific in a field with many East Coast schools. "We love our California location," says Barker. "We happen to be near the beach, and we are a launching pad to many of the regions we study. It is a great asset!"
Visit the Request Info page to receive more information.