2022 Leaders in Graduate Education in International Affairs
THIS GUIDE IS NO LONGER ACTIVE. For the current FP Guide, click here.
Reimagining Global Change Through New Approaches to International Development Policy

Naazneen Barma watched, heartbroken, as Afghanistan fell to the Taliban, illustrating just the perils she has researched and written about.
"We thought we had the right recipe for state building, but things went very differently in the making of it," says Barma, director of the Scrivner Institute of Public Policy at the University of Denver's Josef Korbel School of International Studies and author of The Peacebuilding Puzzle: Political Order in Post-Conflict States.
She draws inspiration to find better approaches from teaching the next generation of scholars and practitioners. "I feel like we're at a turning point," she says, citing "negative outcomes in Afghanistan and Iraq" and, more broadly, the United States' waning role in the world. "It's a moment in which we can think about what new and innovative things are possible."
It's our moral and ethical responsibility to manifest the public good in as many places as we can, including in developing countries.Naazneen BarmaBarma specializes in international development policy and is the founding director of the Scrivner Institute as it integrates within the Korbel School. She and her students discuss "decolonizing development." To her, that means rethinking a system where Global North development experts have typically made decisions on what should be done in developing countries in the Global South.
"We have these frameworks we dream up in DC, but when you put them in place in the developing world, it doesn't work." She adds that more input is needed from the historically marginalized communities in the Global South themselves. "An ethical perspective is incredibly important, bringing different voices to the table, thinking about how people are affected."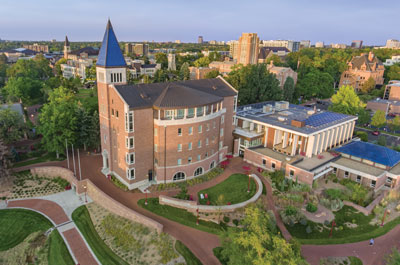 Barma says she is energized by working with young people whose analytical and critical thinking skills are complemented by a good dose of idealism. At the Korbel School they learn about the context of international affairs and public policy. 
"It's our moral and ethical responsibility to manifest the public good in as many places as we can, including in developing countries," says Barma, who is of Indian heritage and grew up in Hong Kong as the daughter of a public servant and a community volunteer.
---
Students Discover Opportunities to Make a Difference Through Policy

Janet Hernandez entered the Korbel School thinking grassroots development was her future. But taking Naazneen Barma's International Development course in the fall of 2020 opened her eyes to the broader impact policy can engender.


>>>

As an undergraduate, Hernandez studied Spanish translation and English. After graduating, an itch to travel led her to South Korea as a Fulbright winner, teaching English for two years and then staying an extra year to train English teachers from Korea.


>>>

"Living for three years in a different country opened my eyes to the international affairs world," says Hernandez, 26. Now she hopes to work in Washington, DC, when she graduates this spring.
---
University of Denver, Josef Korbel School of International Studies
https://korbel.du.edu
korbeladm@du.edu
303-871-2456