2018 Graduate Education | International Affairs
THIS GUIDE IS NO LONGER ACTIVE. For the current FP Guide, click here.
UC San Diego,
School of Global Policy and Strategy
In preparing the next generation of global professionals, UC San Diego's School of Global Policy and Strategy (GPS) keeps a close eye on rapid shifts in global relations and problem-solving approaches.
"People are looking for solutions to a new set of problems in the 21st century," says Peter Cowhey, the school's dean and its Qualcomm Endowed Chair in Communications and Technology Policy. "They're willing to work with a hybrid of traditional public, private, and nonprofit partnerships on approaches to solving these problems."
GPS students who are passionate about pursuing solutions to societal issues gain the preparation they need to succeed in a variety of settings, from working with a corporation's socially responsible investing group to leading nonprofit initiatives to working in government policy.
"Flexibility in career path will increasingly be a hallmark of the leaders coming out of our school," observes Cowhey.
GPS programs emphasize a rigorous, data-driven analytic training based in economics, advanced statistics, and related fields. Students acquire a systematic approach to program design and evaluation, whether their interests focus on advancing human rights, promoting sustainable energy use, or other endeavors.
The GPS Master of International Affairs (MIA) is a longstanding program that teaches a broad set of analytical skills, with a regional focus on Asia and the Americas. MIA alumni work across the public, private, and nonprofit sectors in fields such as international development, supply chain management, corporate social responsibility, and diplomacy in more than 80 countries around the world.
The Master of Public Policy (MPP), which graduated its first class in June 2018, allows students to concentrate on one or more policy areas, such as environmental issues, business, health, or security. The program is particularly attractive for students who plan to work in federal, state, or local government, private enterprises, or organizations abroad that value a policy degree.
For mid-career professionals, GPS offers the one-year (or part-time, two-year) Master of Advanced Studies in International Affairs (MAS-IA). One of its newest options is an evening part-time program focusing on Security of the Asia-Pacific.
GPS also offers a PhD in Political Science and International Affairs, conducted jointly with the UC San Diego Department of Political Science.
GPS's West Coast location puts it at the forefront of two pivotal forces of the 21st century: the prevalence of technology and the centrality of Asia and the Americas in global affairs.
UC San Diego hosts one of the strongest programs in the United States on modern Chinese economy and politics. The 21st Century China Center at UC San Diego is a leading university-based think tank that produces scholarly research and informs policy discussions on China and U.S.–China relations. In 2017, GPS launched its Master of Chinese Economic and Political Affairs (MCEPA) program for students who want to delve deeply into Chinese domestic policy, foreign policy, and economic affairs.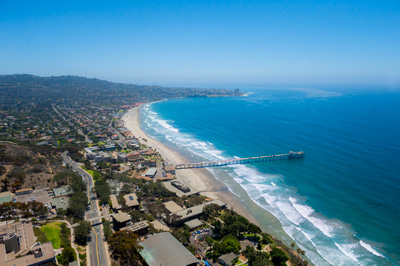 The Center for U.S.–Mexican Studies, also based at GPS, has long been a go-to source for serious academic research on Mexico and U.S.–Mexico relations, from NAFTA to immigration.
As part of a major research university, GPS also offers interdisciplinary work with a variety of research centers at UC San Diego.
"GPS works intensively, both in research and teaching, with the science, engineering, and medical facilities of UC San Diego," Cowhey says. "Such cooperation is central to the character of the school. We're investing resources to really give our students a sophisticated understanding of science and engineering, and also blending that with policy analysis and solution design."
Graduate Degree Programs in International Affairs:
• Master of International Affairs (MIA)
• Master of Public Policy (MPP)
• Master of Chinese Economic and Political Affairs (MCEPA)
• Master of Advanced Studies in International Affairs (MAS-IA)
• PhD in Political Science and International Affairs (with UCSD Department of Political Science)