2022 Charting a Career Path in Global Affairs
THIS GUIDE IS NO LONGER ACTIVE. For the current FP Guide, click here.
New Skill-Building Certificates Address Emerging Public Service Demands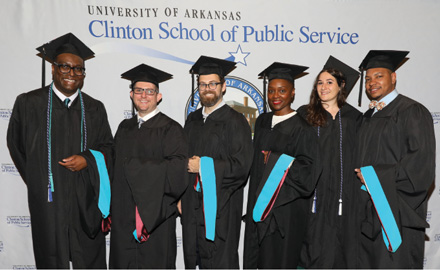 The Clinton School of Public Service, the nation's first to offer a Master of Public Service (MPS) degree, is founded on the conviction that to be effective in different capacities—whether pursuing a career in the nonprofit, private, or public sector—students benefit tremendously from the school's marriage of field service and academics. During their two years, students participate in three distinct field service experiences, with both national and international partner organizations. These hands-on field service projects expand the traditional classroom, grow the students' professional networks, and lead to unique career opportunities after graduation.
With on-the-ground knowledge and feedback from alumni and partner organizations, the Clinton School of Public Service has launched two new skill-building certificate programs to better prepare students for the latest workforce demands. This fall, in conjunction with a Master of Public Service degree, students can earn a certificate in Communication Leadership or Data Analysis for Social Change by completing three courses and a capstone project.
The Communication Leadership Certificate is designed to help public service leaders improve their impact, performance, and effectiveness as communicators. It responds to significant interest from non-governmental organizations, nonprofits, and government bodies who are seeking graduates with strong written and oral communication skills, and offers a special focus on developing leadership skills that inspire people to create solutions for complex challenges in their communities.
Likewise, the Data Analysis for Social Change Certificate teaches students how to analyze data to produce real change in the communities they'll go on to serve. "Many schools are providing excellent training and data analytics, but what they're not bringing is the practitioner side, and teaching students how to apply those data analytic skills to understand and solve problems inherent within a community," says Brandon Merrell, assistant professor at the Clinton School of Public Service.
The Clinton School prides itself on its ability to provide students with individual attention, from academic to career advising. "Students entering the MPS program are paired with an adviser related directly to their interests," says Merrell. "The whole time, they have individual attention. They don't need to compete for the resources of different faculty members; we can supervise them because we've deliberately kept the program relatively small." An average of 50 students enter the program each year.
Graduates of the school have gone on to work at a variety of organizations, including The Asia Foundation, World Bank, and Heifer International.
---
Bridg

ing

the Gap Between Social Responsibility and Business
Ralph Bray never imagined that he'd be researching human-elephant conflict (HEC) in Kenya for Gammadda, an organization in Sri Lanka, or that his practicum research recommendations on increasing contract spending with women and minority-owned business enterprises (WMBE) would be implemented within the city of Little Rock, Arkansas. An MPS/MBA student at Clinton School of Public Service and the Sam M. Walton College of Business, Bray hopes to help for-profit businesses become socially and environmentally responsible.
>>>Bray has received the Boren Fellowship, which will take him to Brazil to study Portuguese for a year and focus his efforts on sustainability in the Atlantic Forest or the Amazon. "The Clinton School's world-class reputation with the global community and hands-on projects have opened many doors for me," Bray says.
---
Contact
https://www.clintonschool.uasys.edu/admissions/mps
admissions@clintonschool.uasys.edu
501-683-5228