2022 In-Demand Careers
THIS GUIDE IS NO LONGER ACTIVE. For the current FP Guide, click here.
Real-World Project Immerses Students in How-to of International Development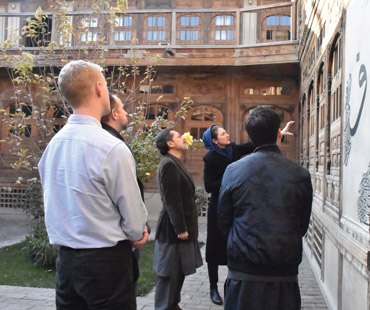 Students enrolled in a yearlong practicum at Yale University's Jackson Institute for Global Affairs are immersed in the "how-to" of international development. They spent spring break 2022 in Jordan, working with a nongovernmental organization (NGO) and taking an in-depth look at the elements of building and running successful projects.
Taught by Shoshana Stewart, a Jackson Institute senior fellow, the course focuses on Turquoise Mountain, an international NGO that works in Jordan, Afghanistan, Myanmar, and Saudi Arabia to revive historic neighborhoods and traditional crafts, with the goal of creating jobs, skills, and a renewed sense of pride in areas where local culture is under threat.
"Courses like my practicum are designed to give students an applied, hands-on experience, engaging with everything from community relationships and fieldwork to grant writing, budgeting, and staff management," says Stewart, CEO of Turquoise Mountain and one of about 20 Jackson Institute senior fellows who mentor and teach students.
"Using the case study of Turquoise Mountain, this is a great opportunity for students to immerse themselves in the practical realities of development work and to explore whether they want to work in the field, start their own NGO, or work with development agencies and organizations in the future," says Stewart.
Another hands-on option for students is completing a "directed reading"—an independent-study course that allows them to design a project customized to a particular area of interest while working closely with any Yale faculty member. Students produce a deliverable of their choice, such as a policy memo or data set. For students, it is a way to enhance their résumé while doing a deep dive into a chosen topic.
The Jackson Institute, which will become the Yale Jackson School of Global Affairs in the fall of 2022, prepares students to understand the world through academically rigorous courses taught by faculty who are prominent scholars and practitioners of global affairs. Jackson Institute Director James A. Levinsohn has been appointed inaugural dean of the new professional school, starting July 1.
Under Levinsohn's leadership, the Yale Jackson School will train and equip a new generation of leaders to devise thoughtful, evidence-based solutions for challenging global problems. "We will open the best-in-class school of international policy next fall, and I am hugely grateful to have the opportunity to lead this new school—Yale's first in decades," says Levinsohn.
Small by design, with about 35 students per incoming class, Jackson offers a flexible curriculum that allows students to design individualized courses of study, choosing from classes across the university that best match their academic focus and professional goals.
Contact
https://jackson.yale.edu/apply
jackson.admissions@yale.edu
203-432-6253