Leaders in Higher Education
THIS GUIDE IS NO LONGER ACTIVE. For the current FP Guide, click here.
CHEN REIS, Director, Humanitarian Assistance Program

University of Denver, Josef Korbel School of International Studies
Every spring, there's a major humanitarian crisis on the University of Denver campus.
Well, not exactly. What actually takes place is a highly realistic simulation of a humanitarian crisis that the university's Josef Korbel School of International Studies uses to train students entering the field of humanitarian assistance.
Involving every aspect of an international emergency from traumatized refugees to clamoring reporters to uncooperative officials to deadly epidemics, the one-and-a-half-day "crisis" is just one of the ways the Josef Korbel School helps students learn and understand the skills they will need in such tumultuous, high-stress situations.
"The idea is to help give students the practical skills they will need to work in this field," says clinical associate professor Chen Reis, director of the school's Humanitarian Assistance Program. "Medical staff commonly practice their skills in this way, and when I came here in 2011, I felt this would be a very useful way to teach our students about working in this kind of high-stress environment."
Reis, who developed simulations while working for the World Health Organization, teamed with another Josef Korbel faculty member, Courtney Welton-Mitchell, who had 20 years of experience in international humanitarian crisis assistance with the United Nations and other organizations. Together, they crafted realistic conditions for the students to cope with.
"We have them followed around by a film crew to teach them how to interact with the media. We have them deal with situations like having their documents confiscated at the border, being separated from their team, sudden evacuations, and communicating with overwhelmed refugees and uncooperative officials," says Reis.
The idea is not only to give students a taste of dealing with this kind of emergency, but also to help them realize how they cope and react to conflict, frustration, and ambiguity, Reis says. "Students tell us they really benefit. I just got an e-mail from a recent graduate working with an international group in the Caribbean who told me how much the simulation helped her prepare for her deployment."
The simulations are just part of the school's goal of teaching students a wide range of what Reis calls "hard and soft skills"—from research and data analysis to the people skills necessary to talk to survivors of violence. "We're not a factory," she emphasizes. "We nurture the interests and strengths of each individual student. That's what we're known for."
As the humanitarian crises the world is facing have grown recently, so has the need for schools to make significant shifts in their approaches, Reis says. Among other changes, the school recently added a refugee policy course that focuses on highly politicized crises, which has been very popular with students across many programs.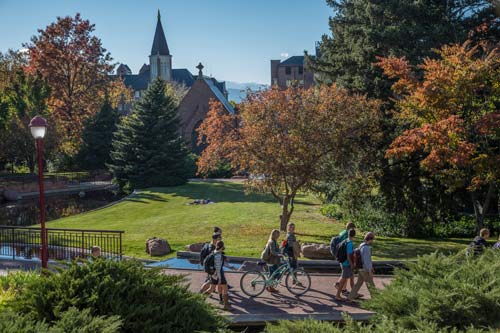 "Politics are involved in every humanitarian response—that's something we always emphasize to students," Reis says. Politics affects what gets attention and funding; it even affects how different populations and crises are described and spoken about. "We help students think through some of the misconceptions people might have about different situations."
The school has also added a course involving communication exchanges where students can speak directly with refugees about their experiences and what they would want assistance workers to do differently.
Says Reis, "We don't ever want students to lose sight of the fact that these crises involve people who need to be listened to."
Graduate Degree Program Options:
• MA, Conflict Resolution
• MA, Global Finance, Trade and Economic Integration
• MA, International Administration
• MA, International Development
• MA, International Human Rights
• MA, International Security
• MA, International Studies
• Master of Public Policy
• Dual degrees: MPP/JD (law), MPP/MSW (social work), and MA/MSW (social work)
• PhD in International Studies and five certificate programs
Visit the Request Info page to receive information from the schools.